Back to Top
UCI Law Moot Court Competition Hosts Exciting Finale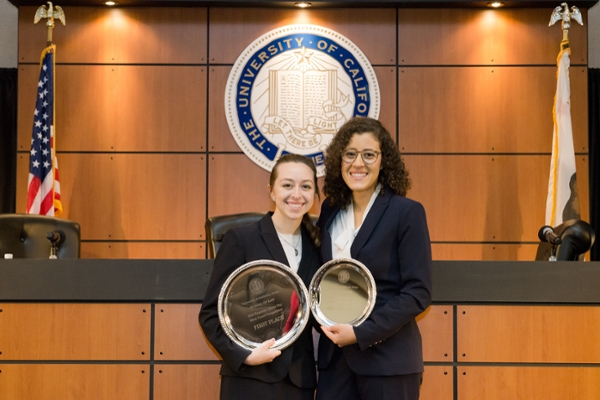 UCI Law's 2019 Experian/Jones Day Moot Court competition concluded last week with a thrilling final argument in front of a trio of appellate judges.
Finalists Tiffany Aguiar (2L) and Paige Christie (2L) presented oral arguments on whether and to what extent public schools, consistent with the First Amendment, may discipline students for their off-campus speech. The arguments are based on an actual case modified for the competition.
Christie was named best oralist, and Aguiar was named runner-up oralist. Additionally, "Best Brief" was awarded to Salma Alheraiqi (2L) and Emily Johanson (2L); Jazz Cabula (2L) and Paige Cavendish (2L) were named runners-up for best brief.
Justice Richard D. Fybel, California Court of Appeal, Fourth District; Justice Sheryl G. McCloud, Washington Supreme Court; and Judge Michael H. Simon, U.S. District Court, District of Oregon comprised the panel of judges.
Experian and Jones Day, founders of the UCI Law Moot Court competition, sponsored the competiton for the ninth consecutive year. More than a dozen sponsors were in attendance to view the final argument (pictured, below).
Fifty-three students participated in the competiton this year.
Photos of the finals are available here.