Back to Top
Prof. Goodwin named Hastings Center Fellow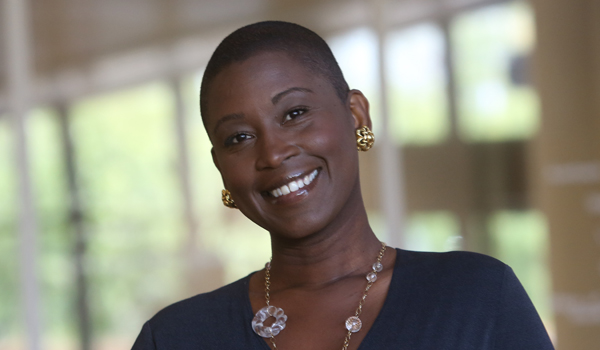 The Hastings Center named UCI Law Chancellor's Professor of Law Michele Bratcher Goodwin a Hastings Center Fellow.
Hastings Center Fellows are a group of individuals of outstanding accomplishment whose work has informed scholarship and/or public understanding of complex ethical issues in health, health care, life sciences research, and the environment.
"I'm grateful to have the opportunity to do what I love: research and write about very challenging social questions and conditions at the intersections of law, ethics, medicine, and economics," Goodwin said. "I'm delighted that the fruits of this loved labor have been recognized and honored by the Hastings Center."
One of the nation's leading experts on health law, regulation, and policy, Goodwin is the founding director of UCI Law's Center for Biotechnology and Global Health Policy (CBGHP). The CBGPH serves as a reference point for research, policy development and advocacy concerning science, biotechnology, bioethics and healthcare in the United State and abroad.
Goodwin's writing has been featured in Politico, Forbes, The Washington Post, The New York Times, NPR and Salon.com, among other media, and her scholarship is published or forthcoming in the Yale Law Journal, Harvard Law Review, Cornell Law Review, NYU Law Review, California Law Review, and others. Goodwin's publications include five books and more than 80 articles, essays and book chapters, along with numerous commentaries.
Goodwin also serves on the executive committee and national board of the American Civil Liberties Union and is an elected member of the American Law Institute.
The Hastings Center addresses fundamental ethical and social issues in healthcare, science, and technology.
About UCI Law
Celebrating its 10th anniversary in 2018, the University of California, Irvine School of Law begins its second decade a larger, stronger, more dynamic academic institution than its founders could have ever imagined. UCI Law provides an innovative and comprehensive curriculum, and prioritizes public service and a commitment to diversity within the legal profession. UCI Law students have completed more than 80,000 hours of pro bono work in the past decade. Forty-five percent of UCI Law's graduates are students of color. The collaborative and interdisciplinary community at UCI Law includes extraordinary students, world-renowned faculty, engaged alumni, and enthusiastic supporters. UCI Law continues to rank highly, including: The National Jurist ranks UCI Law No. 4 in the nation for practical training; U.S. News & World Report ranks UCI Law No. 21 in the nation overall out of 194 law schools, and ranks UCI Law's robust clinical program No. 13 in the nation. More information on UCI Law is available here. Please follow us on Twitter and Instagram @ucilaw and SnapChat: ucilaw.