Back to Top
UC Irvine Journal of International, Transnational, and Comparative Law publishes new volume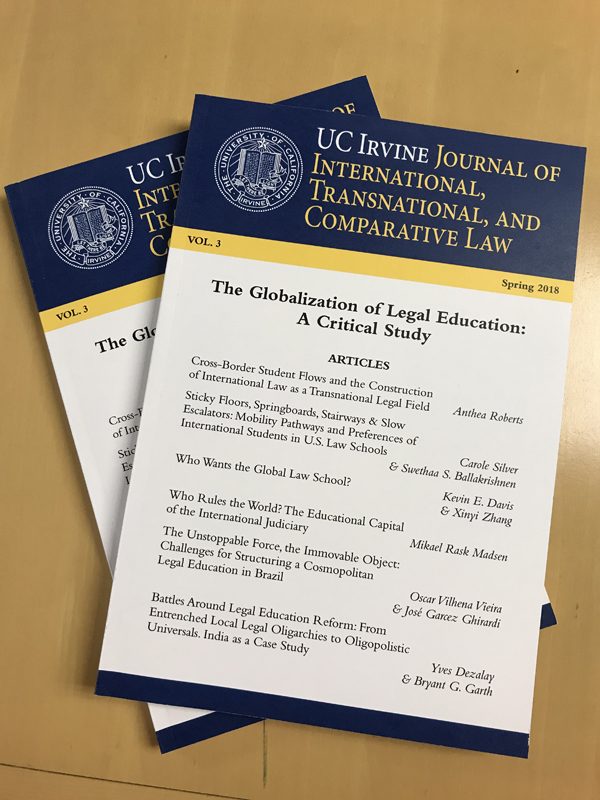 The UC Irvine Journal of International, Transnational, and Comparative Law just published its latest volume: Volume 3 The Globalization of Legal Education: A Critical Study. In this issue, leading scholars from around the world empirically evaluate the nature of legal education as part of global and transnational structures and processes.
The articles in Volume 3 are:
"Cross-Border Student Flows and the Construction of International Law as a Transnational Legal Field" by Anthea Roberts
"Sticky Floors, Springboards, Stairways & Slow Escalators: Mobility Pathways and Preferences of International Students in the U.S. Law Schools" by Carole Silver and Swethaa S. Ballakrishnen
"Who Wants the Global Law School?" by Kevin E. Davis and Xinyi Zhang
"Who Rules the World: The Educational Capital of the International Judiciary" by Mikael Rask Madsen
"The Unstoppable Force, the Immovable Object: Challenges for Structuring a Cosmopolitan Legal Education in Brazil" by Oscar Vilhena Vieira and José Garcez Ghirardi
"Battles Around Legal Education Reform: From Entrenched Local Legal Oligarchies to Oligopolistic Universals. India as a Case Study" by Yves Dezalay and Bryant G. Garth
This follows volume 1 (on Transnational Legal Ordering and Private Law) and volume 2 (on Transnational Elements of Constitution-Making).
Advised by Chancellor's Professor of Law and director of the UCI Law Center on Globalization, Law and Society, Gregory Shaffer, the journal is dedicated to the advancement of legal scholarship in the fields of international, transnational, and comparative law.