Back to Top
UCI Law Dean L. Song Richardson honored at diversity & inclusion celebration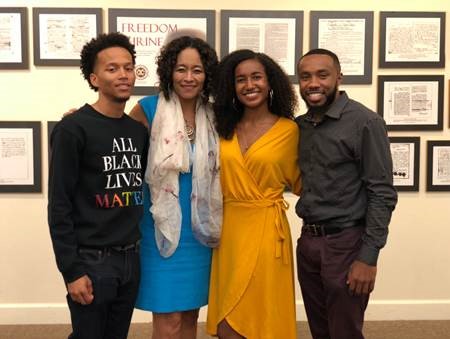 At the 2nd Annual Diversity & Inclusion Unity in Service Celebration, UCI Law Dean L. Song Richardson received the 2018 "Be The Change" Legal Excellence Award, which recognizes "outstanding legal jurists, scholars, legal professionals and changemakers who possess courage, compassion, leadership, decisiveness, kindness, strength, open-mindedness, freedom from bias and a commitment to equity, equality and justice for all." The event was hosted by Crowell & Moring LLP and Chapman University Dale E. Fowler School of Law.
"I am so proud of Dean Richardson for being nominated and receiving the 'Be The Change Award,'" said Rose Lyn, UCI Law second-year student. "Not only is Dean Richardson changing UCI Law as we know it, but she is also doing her part to change the world. She is the best dean a student could ask for, and her work is not done yet!"
"I am deeply humbled to have received this award and to be in the company of such impressive change-makers," said UCI Law Dean L. Song Richardson.
UCI Law Chancellor's Professor Michele Goodwin was the keynote speaker at the celebration which honored the 150th anniversary of the ratification of the 14th Amendment. Ratified in 1868, the 14th Amendment to the U.S. Constitution provides, in part, that no state can "deny to any person within its jurisdiction the equal protection of the law."
In addition to Dean Richardson, the "Be the Change" awardees included:
The Honorable Halim Dhanidina, Associate Justice of the Court of Appeals, Second Appellate District, Division Three, Los Angeles, the First Muslim and South Asian-American Justice in the history of the California Court of Appeals;
Casey Johnson, Partner, Aitken * Aitken * Cohn LLP; and
Rick McNeil, Partner, Crowell & Moring LLP.
Winners of the "Courage Award" included:
Karina Gutierrez, Human Rights Attorney at UC Immigrant Legal Services Center, and
Sylvia Kim, Human Rights Attorney, Regional Director of Asian Americans Advancing Justice, Orange County.
Other sponsors for the celebration included: Thurgood Marshall Bar, Diversity & Social Justice Forum, OC Lavender Bar, Hispanic Bar of OC, Veterans Legal Institute, OC Asian American Bar, Iranian American Bar, OC Women Lawyers, Muslim Bar of So CA, Filipino-American Bar of OC, American Constitution Society, OCBA-YLD, OC Equality Coalition, OC-Coalition for Diversity in the Law, Asian Americans Advancing Justice-OC, OCBA, OCBA Diversity Committee, UCI Law, Western State College of Law, Whittier Law School, Vietnamese American Bar So Ca, OC Korean American Bar, J. Reuben Clark Law Society.