Back to Top
UCI Law Students Working in the Nation's Capital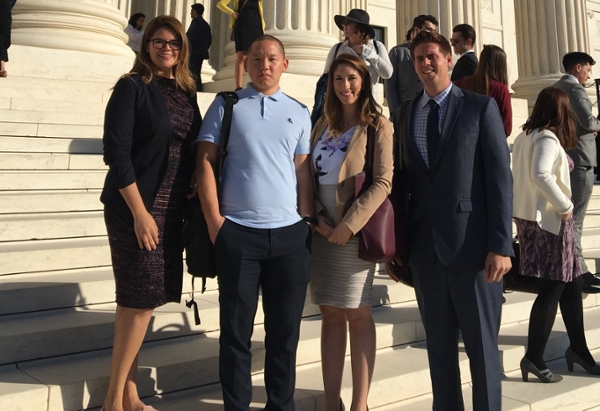 In fall 2017, four UCI Law students participated in the UCDC Law Program. The program is a full-semester externship program in Washington, D.C., and combines a weekly seminar-style course with a full-time field placement at a government agency or nonprofit.
It is the highest number of UCI Law students to participate in a given semester in school history. There were a combined 16 students from UC Berkeley, UC Davis, UC Hastings, UCLA and UCI Law Schools participating in the fall 2017 semester.
Our students recently took the time to share their experience working in the nation's capital:
Shirley Diaz (3L) 
"I have spent the semester in my dream internship at the Securities & Exchange Commission with the Division of Enforcement. Enforcement is the investigative arm of the SEC. Lawyers in this division investigate possible violations of federal securities laws through document subpoenas, testimony, and investigative interviews. This semester, I worked on a generalist team that investigated a broad range of violations. The division is also responsible for prosecuting the violations it discovers through civil cases in district court, or with the in-house administrative law judges. Through this internship, I gained a deeper understanding of federal securities laws, supplemented my coursework by applying in-class learning to real problems, and saw the inner-workings of Wall Street's top cops. I highly recommend an internship at the SEC to any student with an interest in securities law. I also recommend students take advantage of the UCDC program to serve as a "third summer" in which they can explore yet another career option before graduation."
Vanessa Gomez (3L)
"One of the best decisions I have made while attending UCI Law is to participate in the UCDC Program. Over the course of the semester, I've had the opportunity to both obtain firsthand legal experience at a government agency, and make lifelong friends with fellow law students from around the country.  My ultimate career goal prior to starting law school was to work at the U.S. Securities and Exchange Commission (SEC).  The UCDC program allowed me to achieve that goal at the Commission's headquarters. As a full-time extern, I was fully integrated into the work of the Office of Mergers & Acquisitions within the Division of Corporation Finance. I learned the behind-the-scenes work of the Commission and created contacts that I will carry with me throughout my career.  As someone with a background in finance and a future as a corporate finance attorney, this experience was invaluable and a dream come true. Through weekly UCDC seminar classes, I was also exposed to the work of program classmates at other agencies and organizations around the city.  In several of the classes, we had the opportunity to meet high-level D.C. attorneys and discuss what "lawyering" in the nation's capital really meant.  Lastly, outside of class, I had the opportunity to tour the U.S. Supreme Court with the justice's law clerks, sit in on oral arguments, and view both Senate and House hearings in person.  I cannot stress enough what an irreplaceable experience this fall semester has been.  I will always carry these memories with me and highly recommend that any law student at UCI participate in UCDC."
Sean Lobb (3L)
"This fall I am interning at the Department of Justice in the Organized Crime and Gang Section as a part of the UCDC program. Participating in the UCDC program has been extra meaningful for me because my mom participated in the same program back in the '80s as a student at UCLA. At the Organized Crime and Gang Section I have been able to assist in prosecuting organized crime cases across the country.  I have been able to work on important cases involving the Italian-American Mafia, MS-13, the Bloods, Hells Angels, the Mongols, and labor union violence.  It has been a great honor to work in this capacity as a law student. UCI Law classwork does a phenomenal job of preparing one for a full-time internship with the Department of Justice.  Professor Ezra Ross gave me the writing skills I need to draft effective memos and motions.  Judge Richard M. King gave me the understanding of evidence I need to address evidentiary issues, and Professor Richard Ceballos gave me the proper foundation for criminal procedure. Lastly, living and working in Washington, D.C. has been terrific!  The city is full of exciting things to do and walking past the White House to work every day never gets old. The weekly UCDC class does a great job of introducing students to what it is like to be an attorney in D.C.  Guest speakers each week have included Justice Alito, the General Counsel of the Treasury Department, and the former Chief of Staff to Congresswoman Nancy Pelosi. I have thoroughly enjoyed participating in the UCDC program and would highly recommend it to other UCI Law students.  It is definitely the best way to spend a semester during 3L!"
Students interested in more information can visit UCDC's Facebook, Twitter and Instagram pages, and contact D'lorah Hughes, UCI Law's director of externships, or Nicole Lehtman, UCDC director.