Back to Top
Student Perspective: Hispanic National Bar Association/Microsoft IPLI Scholar experience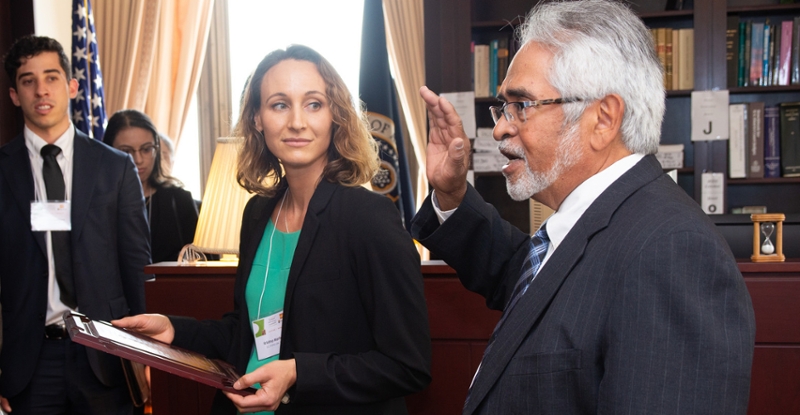 Kristina Martinez '20 focuses on promoting diversity in intellectual property law, artificial intelligence
By Kristina Martinez 2L
This past summer, I was awarded the honor of being named an HNBA/ Microsoft IPLI Scholar and spent a week in Washington D.C., immersed in intellectual property law. The program included substantive instruction, practical experience, writing workshops, visits to U.S. government institutions related to IP law, briefings by industry leaders and networking opportunities.
Five years ago, the Hispanic National Bar Association partnered with Microsoft to launch the HNBA/Microsoft IPLI Scholars Program in order to promote diversity in intellectual property law. Hispanics currently represent more than 17 percent of the U.S. population but account for only 1.8 percent of intellectual property lawyers. IPLI creates a platform for educating participants, fostering a supporting community, and holding alumni accountable for the trajectory of their careers.
When I applied for this scholarship, I was on the fence about practicing intellectual property law. Although this area of the law fascinated me, I was concerned about limited career opportunities since I didn't have a background in either biotech, electrical engineering or computer science. But IPLI opened my eyes to the opportunities within the field of intellectual property. Since technology is outpacing the law, a successful career in IP law doesn't require a specific degree, just the ability to embrace the unknown.
We spent the first day immersed in doctrinal instruction in patents, copyright and trademarks. Professor Jorge Contreras from the University of Utah, who has written and spoken extensively on the institutional structures of intellectual property, technical standardization and biomedical research, gave the 25 Scholars a substantive foundation to frame the information presented by subsequent guest speakers.
The week that followed left me starstruck as we gained insights from leaders across the spectrum of careers in intellectual property law. Speakers included Chief IP Counsel for Microsoft and Apple, Senior Patent Counsel for Google, the Vice President for Government Relations at Disney, and the former White House IP Enforcement Coordinator. We also heard presentations from the various heads of government offices relating to intellectual property, including the Federal Trade Commission, U.S. Copyright Office, Patent and Trademark Office, International Trade Commission, and the House and Senate Judiciary Committees. We even participated in a writing workshop lead by the Honorable Judge Reyna of the Federal Circuit.
For me, the most impactful discussion was a panel presented by Adobe, Microsoft and Lenovo on artificial intelligence. The panel demystified this area of technology and presented an overview of where the technology was going and legal controversies this growth could raise.  As Dana Rao, Lead Counsel for Adobe put it, "AI is the internet of our generation, embrace it."
The Microsoft/ HNBA Scholars Program cemented my interest in intellectual property and awakened my interest in the legal issues related to artificial intelligence. As the Honorable Judge Reyna put it, "People get out of the way for someone who looks like they know where they are going." But it also helps to have a supportive community to point you in the right direction.
For more information about HNBA / IPLI, click here.