Back to Top
UCI Law faculty, staff and students honored by Thurgood Marshall Bar Association, Black Law Students Associations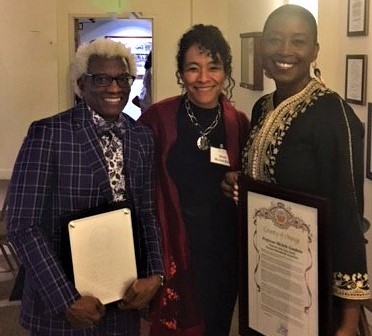 Chancellor's Professor of Law Michele B. Goodwin was named "Professor of the Year," second-year students Xavier Webb and Chris Williams were awarded scholarships and Jay Austin, assistant dean for admissions and student financial services, received the "Lifetime Leadership Award" at the Thurgood Marshall Bar Association's (TMBA) inaugural board installation dinner Saturday night.  
"It is a tremendous honor to be the recipient of the inaugural Professor of the Year Award bestowed by the Thurgood Marshall Bar Association and the Black Law Students Association," said Prof. Goodwin. "I am humbled by their generous acknowledgement of my contributions to law, teaching, and mentoring and deeply moved to receive this award."
UCI Law student, and president of UCI Law's Black Law Students Association (BLSA) chapter, Chris Williams 2L introduced Prof. Goodwin at the event. 
"Prof. Goodwin's leadership, scholarship, and dedication to BLSA's well-being is why we recommended her for this award," Williams said. "Prof. Goodwin has opened her home and office space to BLSA in times of leisure and need. Many of us are not from California and subsequently do not have family here. Prof. Goodwin recognizes this and has pseudo-adopted many of us into her own family."
Williams and Xavier Webb 2L were two of seven Orange County-area law students awarded scholarships from TMBA.
"Prof. Goodwin has been very supportive of BLSA students, and has gone above and beyond to be a mentor to students," said Denisha McKenzie '12, attorney at Carothers DiSante & Freudenberger LLP, president of TMBA and member of UCI Law's Inaugural Class. "Her work as an advocate and mentor to BLSA students helps us in our mission of supporting the next generation of black lawyers in Orange County."
Jay Austin was presented with the Thurgood Marshall Bar Association and Black Law Students Associations Lifetime Leadership Award.
"I am honored to receive the Lifetime Leadership Award as it serves to recognize thirty years of my passion and professional work to provide opportunity and access to generations of talented individuals," Austin said. "I am especially moved by the continuing legacy of African-American UCI Law students that I've helped to nurture and guide to this fine law school."
"Dean Austin has cultivated and created something truly unique and special with UCI Law students, specifically BLSA," Williams said. "Dean Austin consistently goes the extra mile for BLSA; his office and home are a safe space for BLSA students and we are all well aware of it."
Founded in 2012, TMBA is a contemporary bar association committed to connecting, supporting, and increasing the Black legal community in Orange County. TMBA strives to promote diversity, professional improvement, and the advancement of justice through positive community involvement and excellence in the practice of law for the Black legal community, allies, and the community at large.