Back to Top
Nicholas Endowment funds Veterans Legal Institute fellowship for UCI Law alum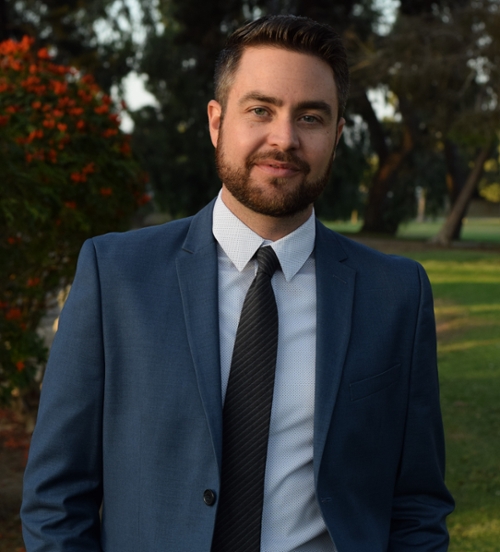 UCI Law alumnus Ian Deady '17 is in the midst of a yearlong fellowship with the Santa Ana-based Veterans Legal Institute (VLI) thanks in large part to the Nicholas Endowment, who are generously funding the fellowship.
"We are extremely grateful to the Nicholas Endowment for their support in funding Ian's fellowship at the VLI – this would not have been possible without their efforts," said L. Song Richardson, dean of UCI Law. "We are also thankful to the VLI for welcoming Ian as he begins his legal career in a field about which he is passionate."
"The Nicholas Endowment is honored and humbled to partner with UCI Law and the good folks at the VLI to provide pro bono legal services to our veterans most in need," said Dan Stetson, trustee and executive director of the Nicholas Endowment. "All of our veterans have made significant sacrifices to unselfishly contribute to our American way of life, and we understand that Ian is doing important, high-impact work with meaningful results."
Deady's practice touches on a multitude of areas, including eviction, bankruptcy, personal injury, government benefits, civil rights, and veterans' claims. He is also currently working with Antoinette Balta, president and co-founder of VLI, to start a bankruptcy clinic, as there is "significant need for debt counseling among veterans."
"There are many highlights throughout my day because I work alongside people who really care and invest themselves in their cases," Deady said. "But the most satisfying part of the job is when you hear the relief in a veteran's voice that comes from their realization that someone is listening and can help them address their issues. No amount of prestige or compensation could ever match that kind of satisfaction."
During law school, Deady clerked for Public Counsel, helping run the organization's Debtor Assistance Project. He also assisted students defrauded by the now-defunct Corinthian College, many of whom were veterans. Deady volunteered with the Legal Aid Foundation of Los Angeles to support affordable housing efforts, and participated in the Environmental Law Clinic, where he briefed and argued a case in superior court.
"Ian was a natural match for the position, encompassing both compassion for those in need, as well as a deep sense of patriotism," said Balta. "Through this partnership, no less than 200 local veterans in need will access justice that, due to illness or socioeconomic status, they would not have otherwise been privilege to."
A two-time graduate of UCI, (B.A. in Social Ecology '10,) Deady chose UCI Law because of its emphasis on public service.
"UCI Law opens a lot of doors for rising public interest advocates," he said. "The school offers real support for students looking to break into public service by providing post-grad financial support to those who enter nonprofit and government work. When it came time to find a position, I got one-on-one support and landed the job I had always envisioned. I have a hard time imagining a better law school experience."