Back to Top
UCI Law hosts annual Student Life & Pro Bono Awards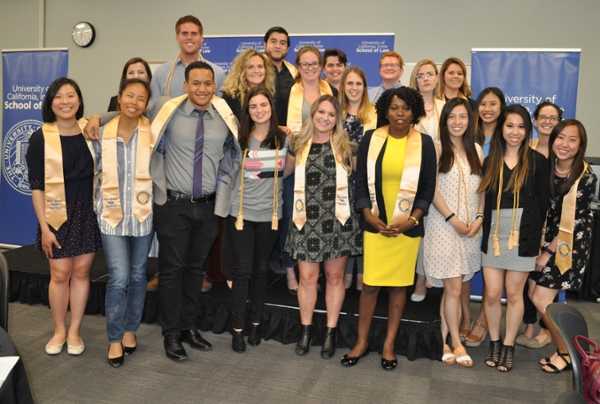 UCI Law hosted its annual Student Life & Pro Bono Awards on April 12, celebrating UCI Law students' pro bono and leadership work, and honoring the supervisors and supporters who assist the students.
The Class of 2018 completed more than 10,000 hours of pro bono during their time at UCI Law, and 95 percent of the class participated in pro bono. Nearly half of the Class of 2018 (47 percent) volunteered at least 120 hours, and 25 students volunteered more than 200 hours during their time at UCI Law.
The Class of 2018, 2019 and 2020 have participated in more than 100 pro bono projects. Since 2009, UCI Law students have completed more than 70,000 pro bono hours.
Projects included, but are not limited to, bond hearings, preparing bankruptcy applications, assisting prosecutors and public defenders, drafting declarations for victims of abuse, representing refugees, helping transgender clients with name and gender marker changes, and helping the poor, disabled, elderly and veterans attain benefits.
The UCI Law Leadership and Service awards were announced at the event. The awards are created by students, and recipients are nominated and chosen by peer vote. For a full list of award categories and recipients, please click here. 
For a photo album of the Pro Bono & Student Life Awards, click here.