Back to Top
Civil rights leader Mark Rosenbaum brings expertise to UCI Law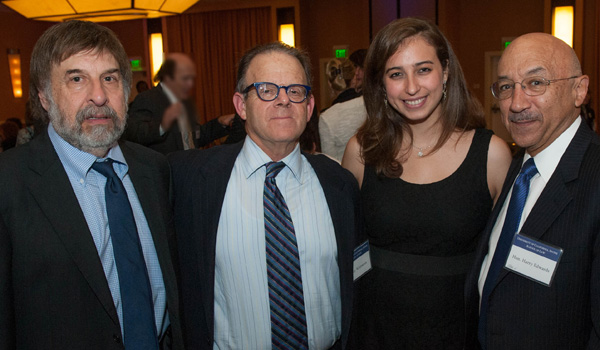 Public Counsel project director teaches litigation, constitutional analysis as visiting professor

In January 2015, a three-year battle against the U.S. Department of Veterans Affairs over 387 acres of land in Los Angeles ended in favor of thousands of homeless vets — thanks in large part to Mark Rosenbaum, director of Public Counsel Opportunity Under Law and visiting professor at UC Irvine School of Law.
A master plan that includes building permanent and transitional housing for Los Angeles' 4,000-plus homeless veterans is now in the works, and Rosenbaum says it can serve as a template for other cities with a similar challenge. "I think [this agreement with the VA] is going to retire the phrase 'homeless veteran' from the American vocabulary," he said in a recent interview with KCRW.
Valentini v. McDonald is just one of many landmark cases litigated by Rosenbaum, whose prior work has led to $1 billion for textbooks, qualified teachers and facilities for the most disadvantaged schools in California; the election of the first Latino supervisor in Los Angeles County in more than 100 years; the invalidation of Proposition 187 and establishment of programs for desegregation in Los Angeles; and the release of a citizen and lawful permanent resident held indefinitely in Iraq. He has argued four cases before the U.S. Supreme Court and more than 25 cases before the Ninth Circuit Court of Appeals, the California Supreme Court and the Court of Military Appeals.
Before joining Public Counsel, the nation's largest pro bono law firm, Rosenbaum spent four decades with the ACLU of Southern California as chief counsel and was its legal director for more than 10 years. As part of UCI Law's 2014-2015 visiting faculty, he is currently teaching Constitutional Analysis and Public Interest Litigation.
Emily Cross '16, who took Rosenbaum's Education Reform Litigation course last fall, says she appreciated his vast experience in litigating civil rights cases: "He taught me that litigation is an art form that requires not only passion and intellect, but also technique, skill and relentlessness."
Rosenbaum's numerous awards include being named one of the 500 best attorneys in the United States by Lawdragon Magazine, Lawyer of the Year by California Lawyer magazine and one of the "100 Most Influential Attorneys in California" by Los Angeles Daily Journal each year since the award's inception in 1998. He has been the Gunderson Professor from Practice at the University of Michigan Law School and also has taught at UCLA, University of Southern California and Loyola law schools. In 2010, he began teaching civil rights law at the Peking School of Transnational Law in Shenzhen to Chinese law students.
"Teaching at UCI Law is a challenge and a comfort," Rosenbaum said. "Its vision of the legal profession is law in service of justice with lawyers as a force to that end. My colleagues are second to none as mentors, teachers and scholars, and UCI Law's students thrive in a community stoked by intelligence, compassion and creativity. It's my privilege to teach in the first law school of the 21st Century."