Back to Top
Hon. Harry T. Edwards offers real-life lessons in legal analysis as visiting professor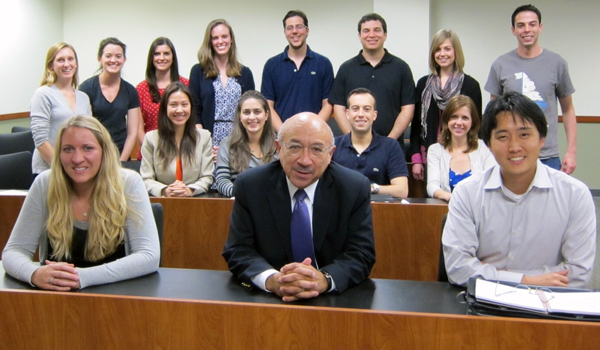 UCI Law students this spring have the unique opportunity to learn "The Art of Appellate Decisionmaking" from a chief judge emeritus of the United States Court of Appeals for the D.C. Circuit.
The Honorable Harry T. Edwards — who served as chief judge from 1994 to 2001 and took senior status in 2005 — is teaching a course that covers the legal contours of appellate decisionmaking, the factors that affect decisionmaking, and the tools employed by judges to decide cases. The students first study theories of legal reasoning, application of precedent, jurisdictional and prudential limitations on judicial review, standards of review, and opinion writing. They are then assigned to three-person appellate panels, which review briefs and records from real cases before the D.C. Circuit, listen to recordings of the actual oral arguments, deliberate, and write opinions. Each student on a panel is responsible for drafting one opinion.
"Judge Edwards's teaching style epitomizes — and indeed likely had a role in shaping — UCI Law's commitment to preparing students for the practice of law," says Stefanie Wilson '14, law clerk to Judge Edwards. "Students may at first be intimidated by his methods, but their reward is lessons in legal analysis that will serve them throughout their careers. Students will also find that Judge Edwards is a committed teacher, who gives as much to each class meeting as he expects out of the students. This is how he approaches work in chambers as well."
Appointed to the bench in 1980 by President Jimmy Carter, Judge Edwards is still an active member of the Court. Previously he was a tenured member of the faculties at the University of Michigan and Harvard law schools; he also taught at the Harvard Institute for Educational Management. After joining the bench, he continued to teach at a number of universities, including Harvard, Michigan, Duke, Georgetown and Pennsylvania; he is presently a professor of law at NYU School of Law, where he has taught since 1990.
"It has been wonderful having Judge Edwards with us as a visiting professor," says Dean Erwin Chemerinsky. "The students are having a spectacular experience, and the Law School has benefited tremendously from his being here."
Judge Edwards has coauthored five books, including Federal Standards of Review (2d ed. 2013). He also has authored numerous articles and commentaries regarding legal education, federal courts, professionalism, judicial administration, labor law, equal opportunity and higher education law. He received a B.S. from Cornell University in 1962 and his J.D. from the University of Michigan Law School in 1965. He practiced law in Chicago with Seyfarth, Shaw, Fairweather & Geraldson from 1965 to 1970.
He recently served as co-chair of the Forensic Sciences Committee at the National Academy of Sciences and is a current member of the NAS Committee on Science, Technology and Law. He is a member of the American Law Institute, the American Academy of Arts and Sciences, the American Judicature Society, the American Bar Foundation, the American Bar Association and the Supreme Court Historical Society. He also is a founding member of the UC Irvine School of Law Board of Visitors and in 2012 delivered the keynote address at UCI Law's inaugural commencement ceremony.
In his words…
Judge Edwards reflects on his UCI Law experience:
"My teaching experience at the UC Irvine School of Law has been immensely gratifying in so many respects. I have been involved with UCI Law, as a member of the Dean's Board of Visitors, since the founding of the school. So when I agreed to teach this semester, I was fairly confident that the school had grown from a noble idea to a great institution of legal education. I was not wrong in my assumption.
My time at the school this semester confirmed for me that UCI ranks with the best law schools in the country. It is a very special place. Dean Erwin Chemerinsky has been a sterling leader in the school's ascendance. His tireless work ethic, brilliance as a scholar and teacher, great integrity, and indomitable spirit and commitment to excellence have played a huge role in attracting a great faculty and top flight administrators. And the incredible talent in the faculty and administrative ranks is palpable.
What I have enjoyed most during my semester at UCI is working with the students. The members of my class are intelligent, committed, thoughtful, hard-working and very much on par with other outstanding students with whom I have worked at other great law schools. Before coming to UCI Law, I thought seriously about how to construct my course. I decided to compress what is a full semester course into a six-week offering, without cutting any of the materials that I would normally use. I told the students on the first day of class that I was determined to 'push' them hard so that they would leave the course with a sophisticated understanding of appellate decision making, including its complexities and nuances. No one blinked or dropped the course. Even though our schedule has been severely compressed and work assignments have been very heavy, the students have never wavered in their commitment to work at the highest level. And they have never whined about how much we have had to do to get through the materials for each class.
It is always gratifying for a teacher to work with students who are committed to excellence, willing to put in the time to achieve it, and are also nice to be around. That is what I have found at UCI — lots of very smart, very committed and very nice people. And I have the sense that the group of students with whom I have worked are a good reflection of the student body as a whole. That is a real tribute to the Law School."