Back to Top
Christina Zabat-Fran Honored With Rising Star Award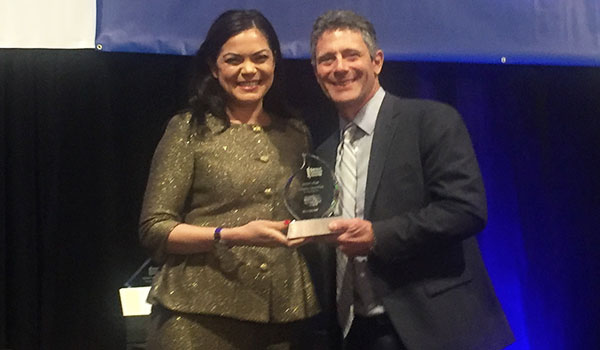 The Orange County Business Journal awarded alumna Christina Zabat-Fran '12 the Rising Star Award at the Journal's 7th Annual General Counsel Awards.
A member of UCI Law's inaugural class, Zabat-Fran was promoted to general counsel of Irvine-based St. John Knits earlier this year. As a fashion executive for a brand known for its signature innovative knits, Zabat-Fran leads legal and business affairs during a crucial era of the brand's evolution and global expansion. Zabat-Fran has been with the company since 2010.
Zabat-Fran is also Chair of the Corporate Counsel Section and on the Board of Directors for the Orange County Bar Association. The Orange County Business Journal previously named her to its 2016 class of Women in Business Honorees. Zabat-Fran also received her undergraduate degree at UCI.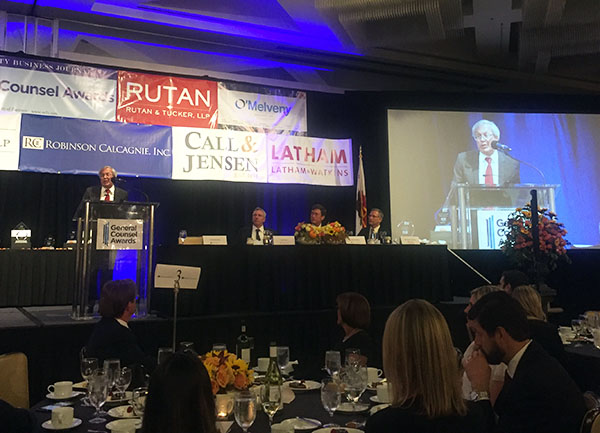 UCI Law Dean Erwin Chemerinsky served as Master of Ceremonies for the event, held Nov. 2 at the Hotel Irvine. The Rising Star Award was one of five awards presented on the night. Read OCBJ News >
Zabat-Fran's Acceptance Speech
Thank you so much. I'm really happy that my family is here tonight. They're here because I was recently promoted to general counsel and they're so excited for me, so this award is just the cherry on top.
I'm from a big Filipino family, and my father has many sayings, and my sister knows this all too well. He said to me while growing up very explicitly to work very hard, believe in yourself, and always earn your Ph.D. (laughter). I know what you're thinking, I'm in here with my J.D., oops (laughter).  But what he really means when he says earn your Ph.D. is to preserve human dignity every day. As a child I knew to be kind. As I got older, I knew to be caring. When I got to high school I knew to be empathetic. When I got to college, I learned to understand different points of view. I got into the workforce and I learned to understand my role and everyone else's role as part of the bigger picture. And then I got to law school, and that's when I realized what a remarkable role it is to be an attorney, where every day we in our world, preserve human dignity as great advocates and also strong stewards for our clients, which here Orange County business community we have great clients.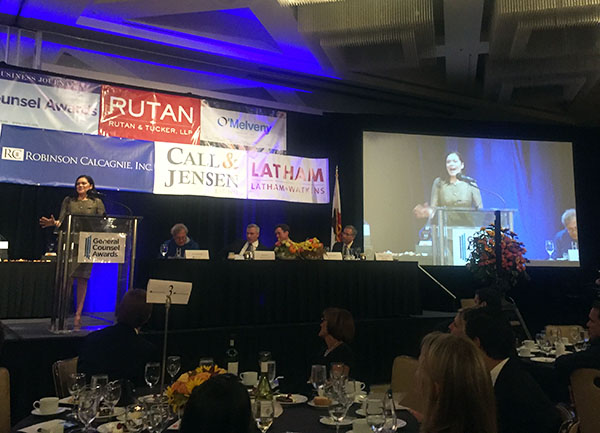 If you'll indulge me for a minute, because I cannot find a better opportunity… Dean Chemerinsky, I want to thank you a million times for your leadership, and your friendship, and unwavering support. I'm part of the inaugural class at UCI Law, and I remember right from the beginning, getting a call from Erwin, and when you get a call from him saying to please come join him, to start something new, I don't know how you say anything but yes. Dean Chemerinsky is of course a leader in all of the ways I aspire to be. He works hard, believes in himself, has great courage and conviction and always leads with grace. In attending UCI Law, I also got to have the most incredible, talented peers that I'm so fortunate to call my classmates in those founding years of the school, many of whom are here tonight.
We really couldn't have done it by ourselves. As much as we had Erwin and our awesome, passionate staff, it was the OC business community being our initial stakeholders and our champions that really helped us get to where we are today. Our debut ranking in the U.S. News & World Report was the highest debut ranking for any law school in history (applause). So I want to thank you for believing in us and working hard and helping us build UCI Law.
I hope that I can be part of showing how the law school and all of us can reach great heights, and what we as the Orange County business community can achieve is limitless. As a young GC, what I'm so grateful for in this Orange County business community are all the mentors and supporters, and all this community offers. I'm looking out in the audience and I see my backbones, and the shoulders that I lean on, and I see so many people who I know I can call and who can help deliver great value to my company. Stepping up and assuming this role is tough, and I want to thank everyone here for the tremendous support. Out of all the places to be in this world, and there are so many amazing companies represented here tonight, I am fortunate to be with the amazing, talented team at St. John. We're an American luxury fashion house, founded right here in OC in 1962. That's over 50 years of dressing confident women, and I'm really proud to be one of them (applause).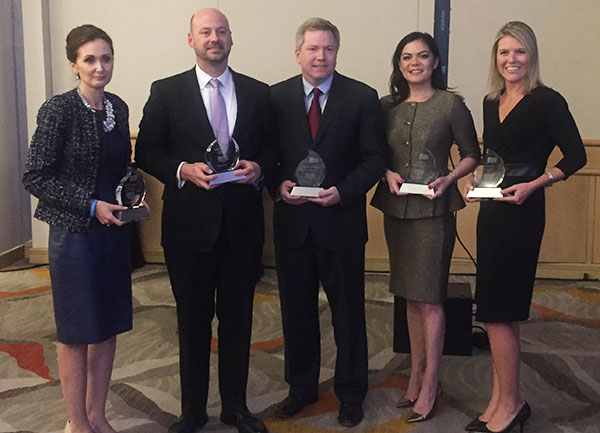 What's really resonated with me in my tenure at St. John and with getting to work with such an incredible team is, just like my father says, working hard and believing in yourself will never go out of style. I want to thank Richard (Reisman) and the OC Business Journal. I want to thank my family and parents for being here tonight. While I'm standing up here with my J.D., I will strive to continue to earn my Ph.D. every day in the OC business community.