Back to Top
UCI Law alumna receives prestigious Equal Justice Works Fellowship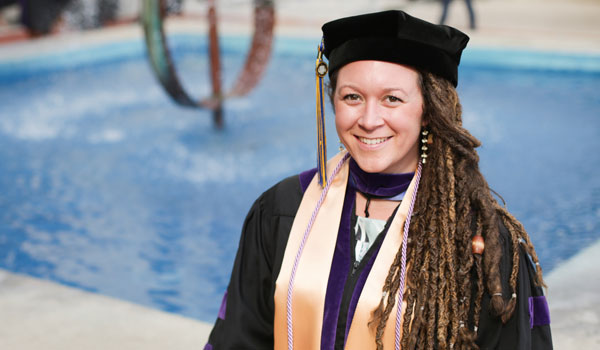 University of California, Irvine School of Law graduate Jordan Aiken '16 will help alleviate health challenges faced by low-income transgender individuals as an Equal Justice Works Fellow sponsored by Greenberg Traurig, LLP.
Equal Justice Works Fellowships allow law school graduates to design innovative projects that positively impact vulnerable communities around the country. Competition for the prestigious two-year fellowship is highly competitive, and winners are selected based on the quality of their proposed project, their leadership abilities and their demonstrated commitment to public interest.
Aiken—a UCI Law Public Service Scholar who earned Pro Bono High Honors for volunteering more than 200 hours of pro bono work during her three years of law school—will launch her project at Bet Tzedek, a nonprofit organization that provides free legal advice and representation to low-income residents of Los Angeles. Many transgender and gender nonconforming individuals in Los Angeles seek medical and legal services, says Aiken, but the relatively few medical providers that specialize in transgender care often are saturated and lack the capacity to treat all patients in need. In addition to health care access barriers, transgender patients also often encounter legal issues underlying their medical concerns.
"The doctor is actually in a unique position to screen for legal needs affecting patient health," Aiken explains. "This is one of the great benefits of a Medical-Legal Partnership, in which medical and legal providers work together to identify and address legal and social issues with health-harming effects."
Her Equal Justice Works Project aims to address a wide range of issues, including assisting patients with:
legal name and gender changes, and with updating identity documents to ensure access to public benefits
landlord-tenant disputes, and housing and shelter denials based on gender identity
employment denials and retaliation
access to shelter and school accommodations
Aiken is no stranger to developing far-reaching public service projects from the ground up. In 2010, she founded and served as executive director of Ayla, a New Orleans-based nonprofit organization for LGBTQ Jews and allies that provided education, advocacy and engagement for the wider community. In 2015, she founded the Legal Name and Gender Change Clinic in Orange County through UCI Law's Pro Bono Program. As lead organizer, Aiken built relationships with and connected many local organizations, including law firms and pro bono attorneys, LGBT centers in Orange County and Los Angeles, the Self-help Center at the Orange County Superior Court, the local LGBT Bar Association and UCI Law students.
In the five years between establishing the nonprofit in New Orleans and the clinic in Orange County, Aiken has worked as a law and policy intern at the Los Angeles LGBT Center; as a naturalization clinic and domestic violence declarations volunteer at the Public Law Center in Santa Ana; as a legal intern for the LGBT Rights, Reproductive Justice and Gender Equity Project of the American Civil Liberties Union of Southern California; and as a pro bono policy writer for the Mississippi Center for Justice, among other legal experiences. Most recently, her article "Promoting an Integrated Approach to Ensuring Access to Gender Incongruent Health Care" was published in the Berkeley Journal of Gender, Law & Justice.
"I am extremely grateful to receive an Equal Justice Works Fellowship and am very excited to get to continue working on this project and in this field," Aiken says. "I am also grateful to be a part of the UCI Law family. The encouragement, support, passion, and generosity here made law school a really incredible experience for me."
At UCI Law's annual Pro Bono & Student Life Awards ceremony held in May, Aiken was recognized with several honors for her many—and varied—contributions to the Law School. UCI Law's director of public interest programs, Anna Davis, presented Aiken with a Pro Bono Independent Spirit Award and a Pro Bono Leadership Award for launching the Legal Name and Gender Change Clinic. Meanwhile, Aiken's peers voted for her to receive the Community Bridge Builder Award, as well as one of six UCI Law Legacy Awards given to graduating students.
According to the student who nominated Aiken for the Legacy Award: "Jordan is a tireless advocate for the LGBTQ community and beyond all, a wonderful, open, humble, nice person who has undoubtedly contributed to the school in such a way that she has left her mark on UCI and, throughout the years, has lived out in all that she does what it means to be a UCI Law student."