Emily Taylor Poppe
Assistant Professor of Law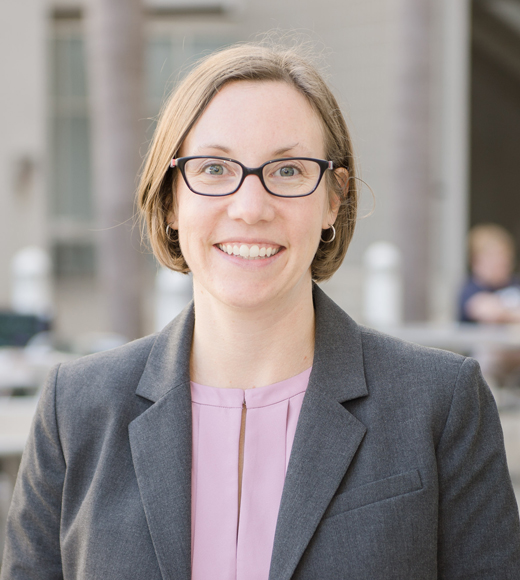 Expertise:
Civil procedure, the legal profession, law and society, empirical legal studies
Background:
Prof. Emily Taylor Poppe is an interdisciplinary empirical scholar whose research is broadly focused on individuals' engagement with the legal system, the structure and work of the legal profession, and the relationship between social inequality and the development of law. Her research has appeared, or is forthcoming, in the Journal of Empirical Legal Studies and Law & Society Review, among other journals.
Prof. Taylor Poppe holds a Ph.D. in sociology from Cornell University, a J.D. from Northwestern University School of Law, and A.B. degrees in Public Policy and Spanish from Duke University.  Before entering academia, she worked as an associate in the Private Client Department of McDermott Will & Emery LLP in Chicago, IL and as Associate Director of Planned Giving for the Harvard Business School in Boston, MA.
Current Courses:
Statistics for Lawyers, Wills & Trusts
Prior Courses:
Professional Responsibility, Sociology of Law, Wills & Trusts, Procedural Analysis
Emily S. Taylor Poppe, Why Consumer Defendants Lump It, 14 N.W. J. L & Social Pol'y (forthcoming 2018).
Erin York Cornwell, Emily S. Taylor Poppe & Megan Doherty Bea, Networking in the Shadow of the Law: Informal Access to Legal Expertise through Personal Network Ties. 51 L. & Soc'y Rev. 635 (2017).
Emily S. Taylor Poppe, Homeowner Legal Representation in the Foreclosure Crisis, 13 J. Empirical L. Stud. 809 (2016).
Emily S. Taylor Poppe & Jeffrey J. Rachlinski, Do Lawyers Matter? The Effect of Legal Representation in Civil Disputes, 43 Pepp. L. Rev. 881 (2016).
Stephen L. Morgan & Emily S. Taylor Poppe, A Design and a Model for Investigating the Heterogeneity of Context Effects in Public Opinion Surveys, 45 Soc. Methodology 184 (2015).
Emily S. Taylor, Note, The Havana Club Saga: Threatening More than Just 'Cuba Coke,' 24 Nw. J. Int'l L. & Bus. 513 (2004).
Fall 2017
Presenter, 2017 Empirical Access to Justice Workshop, University of South Carolina School of Law
June 2, 2017
Participant, "Legal Education: The State of the Art," Inaugural conference of UCI Center for Empirical Research on the Legal Profession (CERLP), UCI Law.