Emily Taylor Poppe
Assistant Professor of Law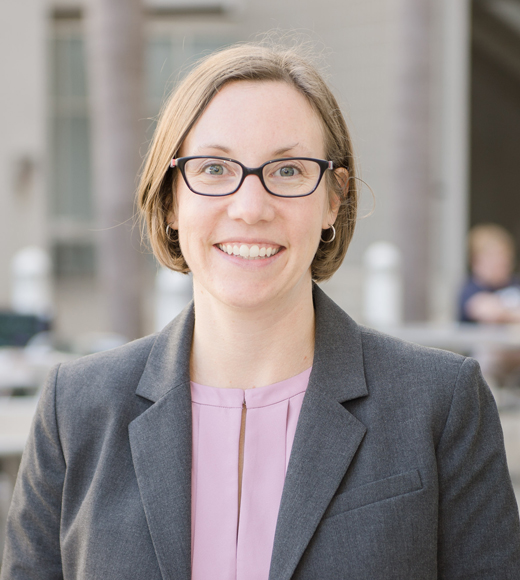 Expertise:
Civil procedure, the legal profession, law and society, empirical legal studies
Background:
Prof. Emily Taylor Poppe is an interdisciplinary empirical scholar whose research is broadly focused on individuals' engagement with the legal system, the structure and work of the legal profession, and the relationship between social inequality and the development of law. Her research has appeared in the Journal of Empirical Legal Studies and Law & Society Review, among other journals.
Prof. Taylor Poppe holds a Ph.D. in sociology from Cornell University, a J.D. from Northwestern University School of Law, and A.B. degrees in Public Policy and Spanish from Duke University.  Before entering academia, she worked as an associate in the Private Client Department of McDermott Will & Emery LLP in Chicago, IL and as Associate Director of Planned Giving for the Harvard Business School in Boston, MA.
Emily S. Taylor Poppe, Institutional Design for Access to Justice,

U.C. Irvine L. Rev.

(forthcoming 2021).
Emily S. Taylor Poppe, Surprised by the Inevitable: An Empirical Examination of National Estate Planning Behavior, 53

U.C. Davis L. Rev.

2511 (2020).
Mark D. Gough & Emily S. Taylor Poppe, (Un)Changing Rates of Pro Se Litigation in Federal Courts, 45

Law & Soc. Inquiry

567 (2020).
Emily S. Taylor Poppe, The Future is

Bright

Complicated: AI, Apps & Access to Justice, 72

Okla. L. Rev.

184 (2019).
Emily S. Taylor Poppe, Why Consumer Defendants Lump It, 14

N.W. J. L & Social Pol'y

149 (2019).
Erin York Cornwell, Emily S. Taylor Poppe & Megan Doherty Bea, Networking in the Shadow of the Law: Informal Access to Legal Expertise through Personal Network Ties. 51 

L. & Soc'y Rev.

 635 (2017).
Emily S. Taylor Poppe, Homeowner Legal Representation in the Foreclosure Crisis, 13

J. Empirical L. Stud.

809 (2016).
Emily S. Taylor Poppe & Jeffrey J. Rachlinski, Do Lawyers Matter? The Effect of Legal Representation in Civil Disputes,

43 Pepp. L. Rev. 881

(2016).
Jan. 21, 2021:
Speaker, Legal Tech & Access to Justice: Thoughts from the Estate Planning Context, Cyberjustice Web-Conference Series, Cyberjustice Laboratory, Online
Oct. 2020:
Participant, The Judicial Role in Professional Regulation, Fordham Law, Online
Oct. 11, 2019:
Presenter, An Empirical Analysis of Wealth Transfer, 53rd Annual UC Davis Law Review Symposium, Davis, CA
June 14, 2019:
Participant, Access to Civil Justice: Integrating and Advancing Theory and Practice: A Workshop Sponsored by the National Science Foundation, American Bar Foundation.
May 30, 2019:
Presenter, New Legal Realism Goes to Law School: Integrating Law and Social Science Through Legal Education, 2019 Annual Meeting of the Law and Society Association. 
Feb. 15, 2019:
Presenter, AI, Apps, and the Art & Science of Lawyering, UCI Socio-Legal Studies Workshop.
Feb. 8, 2019:
Invited Presenter, The Future is

Bright

Complicated: AI, Apps, and Access to Justice, Symposium: The Future of Lawyers in the Age of AI, The University of Oklahoma College of Law. 
June 12, 2018:  
Presenter, Pro Se Litigation in Federal Court, University College London International Conference on Access to Justice and Legal Services.