Back to Top
The Interplay of Race, Gender, Class, Crime and Justice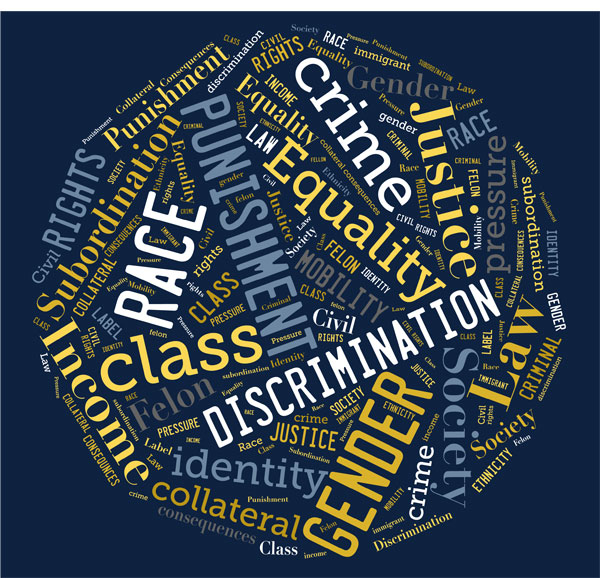 April 26, 2014, 9:00 a.m.
University of California, Irvine School of Law, EDU 1111
National scholars from various disciplines will convene to participate in conversations organized around the following panel topics:
Unequal Burdens of the Collateral Consequences of Incarceration (a panel proposed and moderated by UCI Law students)
Critical Analyses of Crime, Punishment, and Intersectional Identities
Interdisciplinary Explorations of Identity, Crime, and Punishment
Papers from this symposium are published in the UC Irvine Law Review, VOLUME 5: ISSUE NO. 4.
Sponsored by the Center on Law, Equality and Race (CLEAR) at the
UC Irvine School of Law.
Lunchtime Keynote Speaker
Professor Kaaryn S. Gustafson
University of Connecticut School of Law
Discussing her recent book, Cheating Welfare: Public Assistance and the Criminalization of Poverty
Currently Confirmed Panelists and Moderators
Andrea Armstrong
Loyola University, New Orleans College of Law
G. Jack Chin
UC Davis School of Law
Cynthia Lee
George Washington University Law School
Mona Lynch
UC Irvine School of Social Ecology
Jonathan Markovitz
UC Irvine School of Law
Eric Miller
Loyola Law School, Los Angeles
Priscilla Ocen
Loyola Law School, Los Angeles
Michael Pinard
University of Maryland Francis King Carey School of Law
Camille Gear Rich
USC Gould School of Law
L. Song Richardson
The University of Iowa College of Law
Lahny Silva
Indiana University Robert H. McKinney School of Law
Naomi Sugie
Princeton University
Bryan Sykes
DePaul University
Sherod Thaxton
UCLA School of Law
Nicole Van Cleve
Temple University
Schedule
9:00 a.m. Continental Breakfast
9:45 a.m. Welcome and Introduction by Mario Barnes
10:00 a.m. Panel 1: Unequal Burdens of the Collateral Consequences of Incarceration
Student Moderator: Jonathan Markovitz
G. Jack Chin (UC Davis)
Michael Pinard (Maryland)
Lahny Silva (Indiana)
Naomi Sugie (Princeton)
12:00 p.m. Keynote Speaker: Kaaryn Gustafson discussing her book, Cheating Welfare: Public Assistance and the Criminalization of Poverty
1:30 p.m. Panel 2: Interdisciplinary Explorations of Identity, Crime & Punishment
Moderator: Sherod Thaxton (UCLA)
Mona Lynch (UCI)
L. Song Richardson (Iowa)
Bryan Sykes (DePaul)
Nicole Van Cleve (Temple)
3:30 p.m. Panel 3: Critical Analyses of Crime, Punishment, and Intersectional Identities
Moderator: Moderator: Eric Miller (Loyola L.A.)
Andrea Armstrong (Loyola N.O.)
Cynthia Lee (G.W.)
Priscilla Ocen (Loyola L.A.)
Camille Gear Rich (USC)
5:00 p.m. Reception and Gustafson Book Signing