Back to Top
PILF 2017-18 Events
The annual UCI Public Interest Law Fund (PILF) events raise money to enable current and future UCI Law students to commit to summer positions at organizations focused on providing services for traditionally under-represented communities. Proceeds from this event will provide stipends to students who accept non-paying, full-time public interest jobs this summer.
2017-2018 Thank you to our 2017-2018 Donors! (PDF)
How to get involved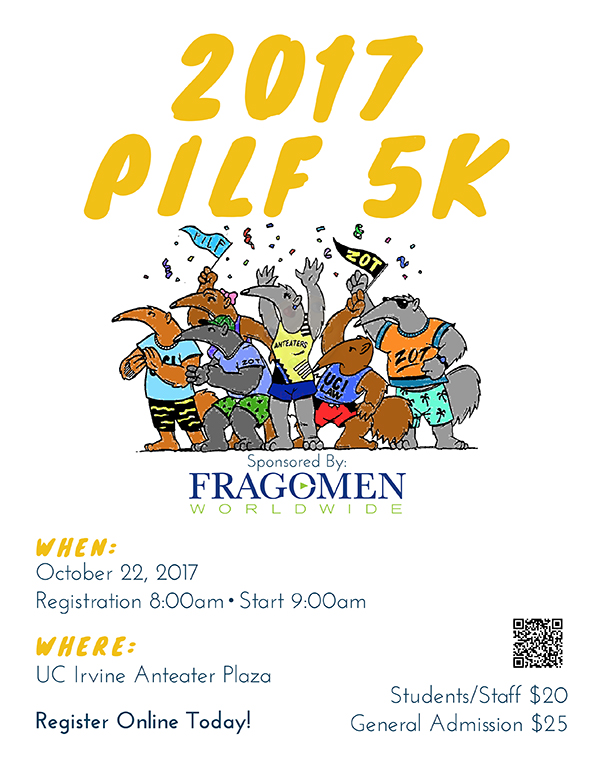 PILF 2017 5K race
Join the School of Law students, staff, faculty, and family and friends of UCI Law for our fourth annual 5K race.
Where: Ring Road, UCI Campus. Please check in at Anteater Plaza
When: Sunday, October 22, 2017. Check-in begins at 8:15 a.m. and the race starts at 9:00 a.m.
Who: Prices are $20 for the UCI Community (faculty, staff, students, alums using UCI email to register), $25 for general public, and $55 for a family of 4 including 2 adults and 2 children under 18. 
Donate-A-Day's Pay
Kicks off October 30, 2017 and continues throughout the year. A cornerstone of PILF at UCI Law is the UCI Law community's Donate-A-Day's Pay (DADP) campaign. Faculty, staff, alumni, students with paid summer jobs, and family and friends of UCI Law commit to donate a day's pay to support upaid public interest work.
Donations can be made by clicking on the following link: https://www.uadv.uci.edu/Donate-A-Days-Pay-Program/
The DADP campaign kicks off Oct. 30 but donations are accepted throughout the year. Questions? Contact the student chairs Desiree Murray dnmurray@law.net.uci.edu and Peter Pyun pyunp@lawnet.uci.edu, or staff advisor Anna Davis at adavis@law.uci.edu or (949) 824-2026.
Student and Alumni/Faculty Online Auction
Details to come
Thank You Event
Thursday, March 29, 2018
PILF at UCI Law provides summer stipends for students working otherwise-unpaid public interest jobs. Last year PILF, with generous support from UCI Law and the University of California Office of the President, funded 49 UCI Law students working for organizations such as the ACLU, Orange County Public Defender's Office, and the Immigrant Defenders Law Center.
Our continued ability to fund every qualified applicant is thanks entirely to the generosity of our donors. On behalf of PILF's Executive Board and membership, we give our warmest thanks and appreciation to everyone who has pledged their support this year!
2017-2018 Donor Recognition (PDF)
---
"I worked at Public Law Center in Santa Ana on the Operation Veterans Re-Entry Project. It's rewarding to see [my client's] resilience as we work on her legal issues, and her confidence in moving forward..."
– Leah Gasser-Ordaz, Class of 2014
" I worked at the Orange County Office of the Alternate Defender ... We reviewed hundreds of cases and drafted habeas writs for eligible clients, some of whom may soon be set free."
– Amy Meier, Class of 2014