Back to Top
Call for Abstracts & Papers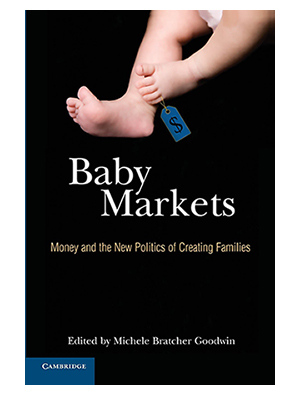 The Baby Markets Roundtable Conveners welcome the submission of abstracts and papers for the 2017 Meeting to be held May 8-9, 2017, at the University of Texas School of Law.
The Baby Markets Roundtable welcome you to submit an abstract for our 2017 meeting. Abstracts may engage any of the selected Roundtable themes listed below. Roundtable organizers will also consider abstracts that engage vibrant, cutting edge ideas in family law, international law, human rights, and rights of the child
All abstracts must be submitted by January 31, 2017. Abstracts should not exceed 250 words.
Submissions will be vetted by the Organizing Committee.
Authors may be invited to submit a paper for publication in the 2nd Edition Baby Markets Reader, published by Cambridge University Press. If you are interested in submitting a full manuscript length paper (20-25 pages/5,000-6,000 words) for publication consideration, please mark the designated box on the abstract submission form. For more information about the first edition of Baby Markets, click here.
For those who would like to submit manuscripts for publication, final papers will be due June 15, 2017.
Roundtable Themes
| | |
| --- | --- |
| Adoption | Native American Adoption |
| Assisted Reproductive Technology (ART) | Personhood Legislation |
| Child Trafficking | Posthumous Reproduction |
| Children's Rights | Preimplantation Genetic Diagnosis (PGD) |
| Constitutional Right to Procreate and Parent | Private and Corporate Interests in Ova |
| Contractual Relationships | Ova Surrogacy |
| Economics of Family-Making | Religion and ART |
| Embryo Adoption | Right to Parent |
| Federalism Tensions | Same-Sex Adoption |
| Foster Care | Same-Sex ART |
| Genetic and Trait Selection of Embryos and Fetuses | Sperm and Ova Selling |
| Gestational Surrogacy | Selective Reduction |
| Government Regulation | State Regulation |
| Human Slavery | Transnational Issues |
| In Vitro Fertilization | Welfare Reform |
| International Surrogacy | Womb Renting |
| Nanny State | Wrongful Birth/Wrongful Life |
Formal Invitations
Participants requiring formal invitations to help secure travel documents and/or funding should contact the Roundtable organizers directly.
Contact Information
Roundtable Chairs:
John A. Robertson, Vinson & Elkins Chair,
University of Texas School of Law
Michele Goodwin, Chancellor's Professor of Law &
Director, Center for Biotechnology and Global Health Policy
401 E. Peltason Drive, Suite 1000,

Irvine

, CA

92697-8000