Back to Top
Chinese Debt: Is it Sustainable?
Thursday, March 5, 2015, 1:00–2:30 p.m. • MPAA Executive Commons at UC Irvine, next to School of Law
A Public Lecture by Victor Shih
Introduction
China today already has some of the highest debt-GDP ratios in the world and the single highest ratio for all emerging market countries. What does this high debt level mean for the economy and the cash flow demands for corporations and individuals? China has implemented policies to slow down the pace of leveraging, but will it make a difference? Finally, what mechanisms may make it increasingly difficult for the PBOC to continue China's credit bubble?
About the Speaker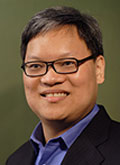 Victor Shih is an Associate Professor at UC San Diego, School of International Relations and Pacific Studies. A scholar of political economy of China, he holds a Ph.D. in government from Harvard University. He has published widely on the politics of Chinese banking policies, fiscal policies and exchange rates, and was the first analyst to identify the risk of massive local government debt. He also worked as a principal for The Carlyle Group. Shih is currently engaged in a study of how the coalition-formation strategies of founding leaders had a profound impact on the evolution of the Chinese Communist Party. He is also constructing a large database on biographical information of elites in China.
The Long Institute Lecture Series on Chinese Law, Business and Society