Back to Top
Renewable Futures and Industrial Legacies: Wind and Solar Energy in China, Germany, and the United States
Thursday, November 5, 2015, 3:00–4:30 p.m.
UC Irvine Paul Merage School of Business, SB1 Room 5200
A Public Lecture by Jonas Nahm
Introduction
This paper examines technological innovation in renewable energy sectors as a window into state-firm relations under conditions of globalization. Governments around the world have used remarkably similar industrial policies to encourage domestic wind and solar industries, yet firms in different economies have responded to renewable energy policy by establishing distinct innovative capabilities. Drawing on more than two years of field research in China, Germany and the United States, this paper shows how firms respond to sectoral industrial policy by incrementally building on local industrial legacies, even in global, emerging industries such as wind and solar. As governments support renewable energy industries not just for environmental reasons, but also in the hopes of creating tangible economic rewards, this project points to the limits of industrial policy and explains who benefits and how. It also identifies a new and important role for firms from developing economies in the development of new technologies, particularly in industries central to addressing global environmental problems.
About the Speaker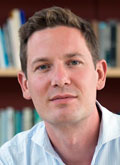 Jonas Nahm is a Postdoctoral Fellow at the Watson Institute for International and Public Affairs at Brown University. He received his Ph.D. in Political Science from MIT in September 2014.
His research focuses on the global political economy of innovation and production, particularly in energy and environmental sectors. He studies the interaction between firms and governments in processes of industrial development and technological innovation in renewable energy sectors, asking when and how governments reap economic—and not just environmental—benefits from supporting green industries. The research has been funded by the Minerva Research Initiative and the U.S. Army Research Office, the German National Academic Foundation, the World Bank Institute and the Korean Development Institute, the Horowitz Foundation for Social Policy, the Harvard Center for European Studies, the MIT Center for International Studies, and the Caroll Wilson Foundation. He was an MIT Energy Fellow and a Fellow of the German National Academic Foundation.
The Long Institute Lecture Series on Chinese Law, Business and Society