Back to Top
The Supreme Court's Past, Present and Future
Tuesday, March 20, 2018
5:30-6:30 p.m.
UC Irvine School of Law, EDU 1111 (Directions)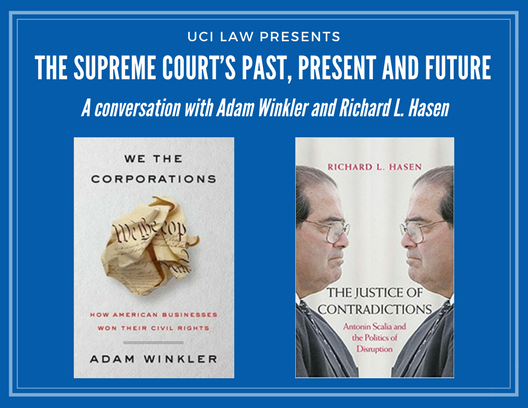 UCI Law presents The Supreme Court's Past, Present and Future, a conversation with UCLA Law Prof. Adam Winkler and UCI Law Prof. Rick Hasen to discuss their newly released books:
We the Corporations: How American Business Won Their Civil Rights by Adam Winkler
and
The Justice of Contradictions: Antonin Scalia and the Politics of Disruption by Rick Hasen
(Reception and book signing to follow)
About Adam Winkler
UCLA Professor of Law Adam Winkler is a specialist in American constitutional law and history. He is the author of We the Corporations: How American Businesses Won Their Civil Rights (2018) and Gunfight: The Battle over the Right to Bear Arms in America (2011). His scholarship has been cited in landmark Supreme Court cases, including opinions on the Second Amendment and on corporate free speech rights and his popular writing has been featured in the New York Times, New York Review of Books, Wall Street Journal, Washington Post, Los Angeles Times, New Republic, Atlantic, Slate, Scotusblog, and Daily Beast. He is a frequent commentator about legal issues and has appeared on Face the Nation, CNN, NBC Nightly News, C-SPAN, Newshour, ABC News, All Things Considered, Morning Edition, and Marketplace. He also served as co-editor of the Encyclopedia of the American Constitution (2d Edition).
About Richard L. Hasen
Richard L. Hasen is Chancellor's Professor of Law and Political Science at the University of California, Irvine. Hasen is a nationally recognized expert in election law and campaign finance regulation, and is co-author of a leading casebook on election law. From 2001-2010, he served (with Dan Lowenstein) as founding co-editor of the quarterly peer-reviewed publication, Election Law Journal. He is the author of over 100 articles on election law issues, published in numerous journals including the Harvard Law Review, Stanford Law Review and Supreme Court Review. He was elected to The American Law Institute in 2009 and served as an Adviser on ALI's law reform project, Principles of Election Law: Resolution of Election Disputes. Professor Hasen was named one of the 100 most influential lawyers in America by The National Law Journal in 2013, and one of the Top 100 Lawyers in California in 2005 and 2016 by the Los Angeles and San Francisco Daily Journal.