Back to Top
Martin Luther King Jr. Teach-In & Training: Mobilizing for Justice in the Post-Election Era
Saturday, January 14, 2017
8:30 a.m.–12:00 p.m.
UC Irvine School of Law (Directions)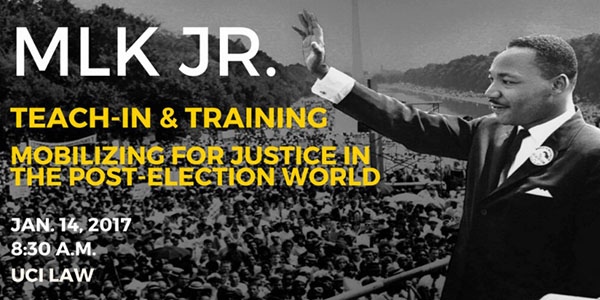 Following the November 8th election, there have been many concerns raised by the UCI Law community about the effects of the new administration upon the most vulnerable in our community, as well as the long term policy implications.
This event is an opportunity for UC Irvine School of Law faculty, staff, students, alumni, and local attorneys to come together to discuss the potential effects of a new presidential administration on a variety of legal practices. This will be a discussion as well as a call to action for those interested in the potential effects of the election on Civil and Reproductive Rights; Criminal Justice; Education; Employment and Labor Law; Environmental Law; and Immigration.
Training will be provided for attorneys wishing to provide pro bono legal representation to individuals who are detained by Immigration and Customs Enforcement (ICE) in their bond hearings. Additional training for attorneys wishing to provide pro bono representation may also be provided.
Schedule
8:30 a.m.–9:30 a.m. Opening Plenary featuring:
Erwin Chemerinsky, Dean and Distinguished Professor of Law, and Raymond Pryke Professor of First Amendment Law, UC Irvine School of Law
Pablo Alvarado, Founder and Executive Director, National Day Laborer Organizing Network
Jacqueline Dan, Staff Attorney, Asian Americans Advancing Justice-OC
Kaaryn Gustafson, Professor of Law and Co-Director, Center on Law, Equality and Race, UC Irvine School of Law
Ameena Mirza Qazi, Executive Director, National Lawyers Guild Los Angeles
9:45 a.m.–12:00 p.m. Breakout Sessions
This event is approved for Minimum Continuing Legal Education Credit by the State Bar of California. UC Irvine School of Law is a State Bar-approved MCLE provider.
For more event details, or to request reasonable accommodations for a disability, please email Sam Domingo at sdomingo@law.uci.edu