Back to Top
UCI Law Student Loan Law Initiative (SLLI) Convenes Scholars and Student Loan Experts to Advance Policymaking and Litigation Strategy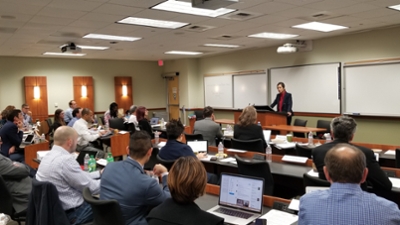 On October 4th, 2019, SLLI convened leading legal scholars, student loan experts, and practitioners from across the country to share their work and shape the future of student loan research and litigation.
The colloquium, hosted at UCI Law, facilitated discussion between participants on key topics including the problematic state of the servicing industry, the role of the states in overseeing the student loan market, and theories of federal preemption. Participants also examined harmful practices from student loan servicing failures to predation by for-profit schools and debt relief scams. Such practices can collectively add billions of dollars of additional student debt to household balance sheets.
This work comes at a critical time. As presenters noted throughout the day, the student loan market is at a crisis point. The volume of student loan debt continues to grow, now surpassing $1.6 trillion. This debt is held by over 44 million borrowers, nine million of whom are currently in default, with three million more currently behind on their payments. Those borrowers who are not behind or in default are feeling the repercussions of the debt across their financial lives, as it impacts their ability to buy a home, save for retirement, or start a business.
As Seth Frotman, Executive Director of the Student Borrower Protection Center said in his opening remarks, more than 1,000 borrowers defaulted on their student loans during the course of the day's discussion. Available data also increasingly demonstrates that the economic burden of student loans has a devastating and disproportionate impact on borrowers of color, contributing to the racial wealth gap and income inequality.
SLLI will build on this fall colloquium with a symposium hosted in conjunction with the UC Irvine Law Review in February 2020. The ideas discussed at the event will also be taken by practitioners back to statehouses and courtrooms across the country with the goal of advancing policymaking and litigation to support borrowers. As UCI Law Dean L. Song Richardson noted at the colloquium, "Legal scholarship in this area is sorely needed. It can help courts understand where the doctrine is and where it should go. It can help advocates make the case for reform. And in shining a light on these issues, it broadens the conversation about what legislative reform might look like."