Back to Top
Student Loan Law Initiative (SLLI) Hosts First Student Loan Law Review Symposium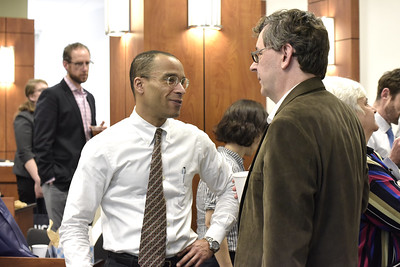 On February 21, 2020, legal scholars and advocates from around the country gathered at the campus of UCI School of Law for the first ever law review symposium dedicated exclusively to the question of student loan law. Articles discussed at the conference will be published in a dedicated volume of the UC Irvine Law Review, forthcoming in 2020. However, the conversation and insights from the day are already helping to set the research agenda and policy activities for advocates in the student loan space.
The day opened with remarks from UCI Law's Dean L. Song Richardson and the incoming editor-in-chief of the UC Irvine Law Review, Courtney Lem, and then turned to the current backdrop of the student debt crisis. The audience heard from Jonathan Glater of UCI Law, Judy Fox of Notre Dame Law School, and Barney Eskandari from the California Attorney General's Office. The panel dug beyond the $1.6 trillion headline number with a particular emphasis on the racial disparities in debt collection. Patricia McCoy, a leading expert on mortgages and servicing before, during, and after the foreclosure crisis provided commentary on the papers, highlighting that "servicing problems are worse in student loans than in mortgages."
In the second panel of the day, the focus turned to state regulation stepping into the gap left behind by stagnant federal oversight. The conversation with Matt Bruckner from Howard, Prentiss Cox from the University of Minnesota, David Rubenstein from Washburn, and Bonnie Latreille from the Student Borrower Protection Center focused on police powers, constitutional limitations, and state oversight powers.
The day ended with a panel on new frontiers in student debt. The audience heard from Creola Johnson of The Ohio State University who spoke about new tactics in debt relief scams; Chris Peterson from the University of Utah who spoke about how college rankings could be adjusted to incorporate the indebtedness of graduates; Luke Herrine a Ph.D. candidate at Yale Law School who spoke about legal theories underpinning student debt cancellation; and John Hunt from UC Davis School of Law who spoke about bankruptcy approaches to student debt relief.
At the end of the day, the key themes centered on the need for more data, more public participation, and more emphasis on higher ed spending as a national investment.
In the weeks since the symposium – as COVID-19 has plunged the country into crisis — the day's topics and discussions have become even more relevant. With people across the country struggling to manage their loans and predatory practices continuing to cause harm, the need to protect borrowers is more urgent than ever.  
The symposium was sponsored by the Student Loan Law Initiative which is a partnership between UCI Law and the Student Borrower Protection Center.
Watch the Symposium
Symposium Gallery