Back to Top
Center News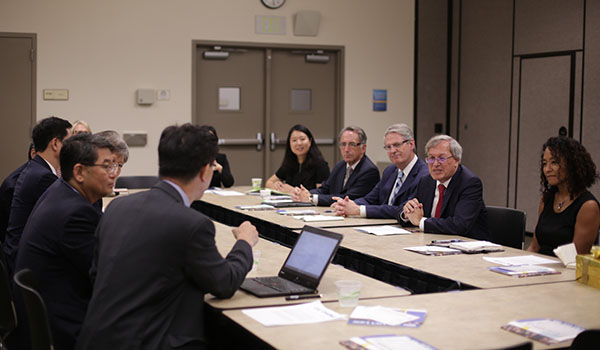 Korea University Leaders Visit UC Irvine
On July 14, 2016, Korea University's President Jaeho Yeom, Kyu Wan Kim (Dean of Law School), Hwang Lee (Professor and Associate Dean for Planning and External Affairs of Law School), Sunhyuk Kim (Vice President of International Affairs) and Byung Hyun Yoo (Vice President of Development and External Affairs) visited UC Irvine.
The purpose of this visit was to strengthen the partnership between the two institutions, including in the areas of law, cybersecurity gaming and e-sports, applied innovation, health sciences and medicine.
UCI Law Dean Erwin Chemerinsky, Vice Dean Charles Cannon, Senior Associate Dean Song Richardson, Associate Dean Mario Barnes, Assistant Professor and Korea Law Center Director Summer Kim and former California State Senator Joe Dunn met with the Korea University delegation to discuss opportunities for faculty and student exchange:
Joint symposium planned between UCI Law and Korea University Law School for May 2017
Working together to launch the Cybersecurity Research Institute and LL.M. program in American Law at UC Irvine School of Law
In the afternoon, Dean Kyu Wan Kim of Korea University Law School gave a lecture on "Civil Law & Law School: The Korean Legal Education System for Legal Professionals." UCI Law Dean Erwin Chemerinsky provided welcome remarks, and Prosecutor Seungmo Koo of the Consulate General of the Republic of Korea in Los Angeles offered celebratory remarks. UCI faculty, staff, students, members of the Orange County and Los Angeles Korean American Bar Associations and interested members of public were in attendance.
Korea University Visit Gallery