Back to Top
KLC Hosts 2019 Fall Semester Welcome and Chuseok Celebration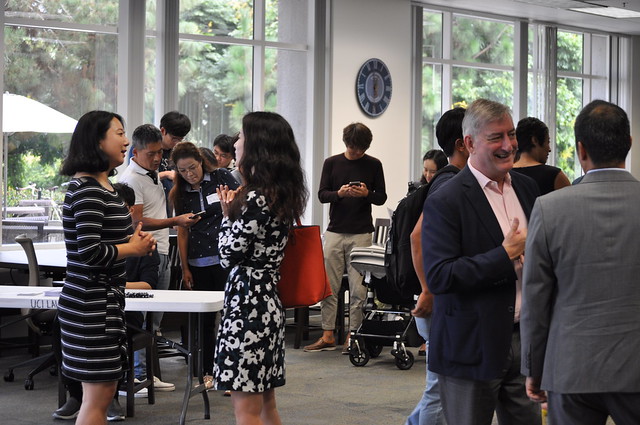 On September 16, 2019, UCI Law Korea Law Center ("KLC") hosted an event to celebrate the start of the fall semester and Chuseok, the traditional Korean thanksgiving holiday.
UCI Law Dean L. Song Richardson, KLC Director and Professor Summer Kim, and the research fellows (Yujin Choi, Betty Kim, Jinho Noh, Sophie Paeng, and Pierre Yoon) welcomed new visiting scholars, as well as LLM and JD students who joined UCI Law in fall 2019. KLC research fellows prepared kimbap, japchae, and songpyeon to celebrate Chuseok.
After Dean Richardson and Professor Kim delivered their opening remarks, the research fellows introduced themselves and explained the various events and functions that they have planned for the fall semester. Each fellow is in charge of an important event or update, such as the Visiting Scholar Roundtable and Alumni Q&A. After the research fellows' introduction, each student and scholar who attended the Chuseok event took turns introducing himself or herself.
The event also featured an icebreaker game in which the attendees answered questions about UCI. 2L Research Fellow Betty Kim facilitated the game. The guests were divided into teams, and each team worked together to answer the questions and to win prizes.
KLC's mission is to promote practical solutions to problems arising at the intersection of U.S. and Korean law and to strengthen the bond between the U.S. and South Korean legal society via active exchange of legal knowledge. Every year, the KLC welcomes 12–15 visiting scholars who are conducting research. This network of scholars has facilitated important comparative discussions across a range of topics spanning criminal, constitutional, and privacy laws.
For more examples of the collaborative efforts between UCI Law and legal scholars, judges, lawyers and policymakers from South Korea, click here.
Photos from the Chuseok event are available here.
-Prepared by Yujin Choi