Back to Top
Professor, Research Fellow meet with Korean-American Leaders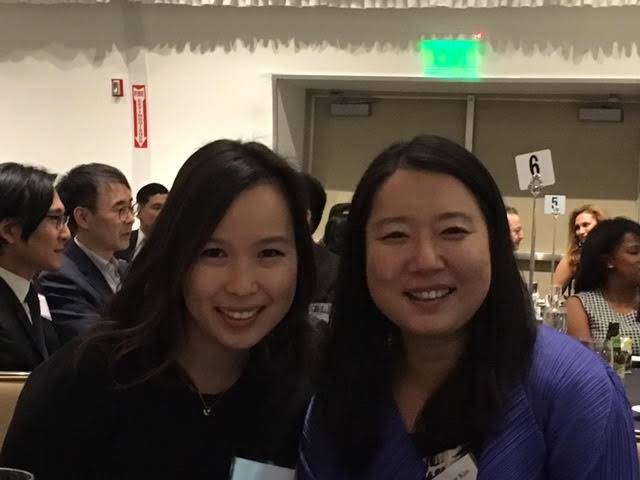 UCI Law Assistant Professor and Korea Law Center Director Summer Kim and Research Fellow Sarah Choi (2L) attended the Berkeley Korea Law Center & Council of Korean Americans' "Mentoring the Next Generation" conference on October 29, 2016.
The purpose of the conference was to bring together students, business leaders, attorneys, and other leading professionals to provide advice, guidance, insights, networking opportunities, and mentorship to the upcoming generation of Korean-Americans and other participants.
Prof. Kim and Ms. Choi met with conference speakers to learn about current issues in Korea and the U.S., including cross-over professional and educational opportunities, immigration and multiculturalism, political engagement and community service. The duo also attended a career panel discussion with Hyun Park, senior vice president and general counsel of PG&E Corp. and Salle Yoo, general counsel of Uber Technologies, Inc., as well as a panel discussion with Yul Kwon, director of product management at Facebook.
When discussing the future for Korean-Americans, there was a common theme of taking risks. Many of the speakers grew up with immigrant parents who wanted their child to have the best education and job security, which often times meant fulfilling certain career roles that were limited to a select number of professions. However, speakers encouraged the audience to take risks and diversify especially in the types of professions people choose to pursue. In order to build and fill the pipeline for future generations of Korean-Americans, it was emphasized that leaders are necessary in all sectors, both private and public.
Thanks to the Council of Korean Americans and many others, these opportunities are already made available with programs including the 2017 Public Service Internship Program. This program provides a scholarship to undergraduate and graduate students to work in a public interest organization or government office for ten weeks during the summer.
Special thanks to the Student Bar Association for helping provide travel funds and making it a possibility for UCI Law to participate in this event.