Back to Top
UCI Korea Law Center Speaker Panel
Careers in Transnational & Cross-Border Law
February 1, 2017
12:10 p.m.–1:00 p.m.
EDU 1131, UC Irvine School of Law
Conversation with five legal professionals whose work focuses on cross-border work in broader Asia. The panelists represent a variety of practices including intellectual property, entertainment law, complex business and corporate finance, in addition to those who practice as in-house counsel. Students will have the opportunity to hear from and network with the panelists. Lunch provided.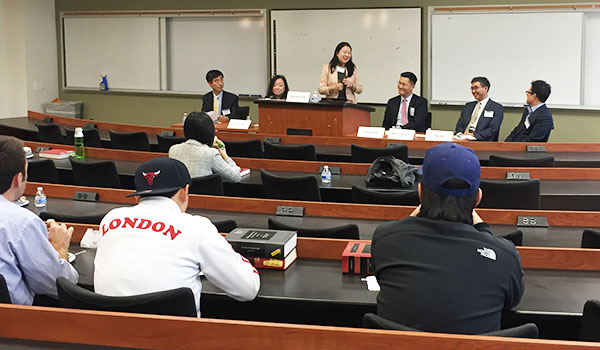 Panelists

Mincheol Kim

Partner at Knobbe Martens

Mincheol Kim practices intellectual property law with a focus on patents, trademarks and other forms of intellectual property including copyrights and trade secrets.  From his practice over 20 years, he has developed expertise in complex legal, technical and business issues in intellectual property procurement, disputes, litigation, licensing, legal opinions, and due diligence. 

Mincheol has represented global technology leaders, universities and start-up companies in a wide range of industries and technologies, including biotechnology, material science, medical devices, semiconductor, secondary battery, display devices, mobile devices, software, IoT, business methods, automotive, shipbuilding and many others. 

Mincheol is a patent attorney qualified in both the United States and Korea. He represents many Korean and Asian companies in their US and global intellectual property matters.  He has a deep understanding about strengths and weaknesses of Asian companies in their intellectual property and handling of those issues in the United States and global settings.  He addresses and manages these issues effectively for successful outcome.  Likewise, he also counsels many US-based companies on intricacies of their Korean intellectual property issues.

Mincheol regularly travels to Asia and frequently speaks on various topics of intellectual property laws and practice.  He joined the firm in 1997 following several years of practice in Seoul, Korea.

Jay Im

Partner at K&L Gates

Jay Im is a corporate lawyer whose work focuses on cross border M&A and foreign investment. He has negotiated and closed landmark transactions valued in the billions of dollars and spanning several continents. He is well-versed with the business practices and cultures of dozens of countries, which he brings to bear to achieve his clients' goals in a targeted and tailored manner. 

Mr. Im also possesses a specialized skill set in entertainment law, particularly in the areas of film production and distribution, broadcast format licensing, live event and concert planning, artist management, and theatrical investment. He is named as the legal advisor in the credits of several popular movies and programs. 

Furthermore, Mr. Im is one of the early proponents of e-sports and has advised several of the world's leading game companies with the development of tournaments, licensing of programs, structuring of sponsorships and fostering of teams.

Youngwook Shin

Partner at O'Melveny & Myers LLP

Youngwook Shin specializes in complex business litigation, antitrust, FCPA, regulatory, and transactional matters for Korean companies across the consumer electronics, automotive, and finance sectors. He helps bridge the legal and cultural gaps between Korean companies and the US legal system so that his clients can effectively achieve their business goals while operating in a foreign legal system.

Young earned his legal education and law licenses in the United States and South Korea. He has acquired a considerable amount of experience in both countries and as a result, he thoroughly understands both legal systems, customs, and business cultures. Young is uniquely positioned to provide strategic, effective, and efficient advice on inbound and outbound business transactions and disputes.

Suzy Lee

VP & General Counsel at Outside GC LLP

Suzy Lee recently became Partner at Outside GC in California.  Previously, she was Vice President and General Counsel of ITT Cannon, a division of ITT Corporation, where she was responsible for all legal matters for ITT Cannon and was also a member of the Senior Executive Leadership Team.  Prior to joining ITT Corporation, she was General Counsel of Otis Elevator Company Korea.  She was Senior Counsel at United Technologies Corporation Research Center and Pratt & Whitney.  At United Technologies Corporation, she was honored with several awards, including the Pratt & Whitney Leadership award.  Suzy was in private practice in New York, Japan, and Korea, before becoming in-house counsel.  In 2015, she was awarded the Orange County Business Journal General Counsel of the Year Award, as well as the U.S.–Korea Law Foundation Leadership award.   In 2016, she was nominated for the Orange County Business Journal General Counsel of the Year Award, team award.

Suzy Lee received her B.A. and B.F.A. with distinction and cum laude from Cornell University, and she received her J.D. from Fordham University School of Law, where she was a member of the Fordham Intellectual Property, Media and Entertainment Law Journal.  She is a graduate of Phillips Exeter Academy.  She serves on the Pacific Symphony Board of Directors, Asian Americans Advancing Justice Council (Orange County), and the U.S.-Korea Law Foundation Board of Directors.  She is a member of the Orange County Bar Association, Association of Corporate Counsel (Orange County Chapter), and Orange County Korean American Bar Association.  She is admitted to the Bar in N.Y., N.J., the District of Columbia, and CA (Registered In-House Counsel).

Seung Baik

Chief Legal Officer at Agility Fuel Solutions

Seung W. Baik is the Chief Legal Officer at Agility Fuel Solutions. Agility is the leading provider of natural gas fuel systems and type 4 pressure vessels for heavy duty vehicles in North America. Seung is responsible for all legal affairs of the company, including government relations matters.

Prior to Agility, Seung was a partner at Goodwin Procter LLP and, prior to that, a senior associate at Latham & Watkins LLP. While in private practice, Seung focused on mergers and acquisitions, leveraged buyouts, growth equity investments, venture capital financings, direct secondary and private company liquidity programs, joint ventures and other corporate transactional matters. His clients included high-profile private equity and venture capital funds, as well as public and private companies.

Seung was a fellow in the Network of Korean-American Leaders (NetKAL) program. He is also a co-founder and former President of the Korean American Bar Association for the Washington DC Area (KABA-DC) and a member of the Association of Corporate Counsel (ACC), National Asian Pacific American Bar Association (NAPABA), the International Association of Korean Lawyers (IAKL) and the Orange County Korean American Bar Association (OCKABA).