Back to Top
Class of 2013 Reunion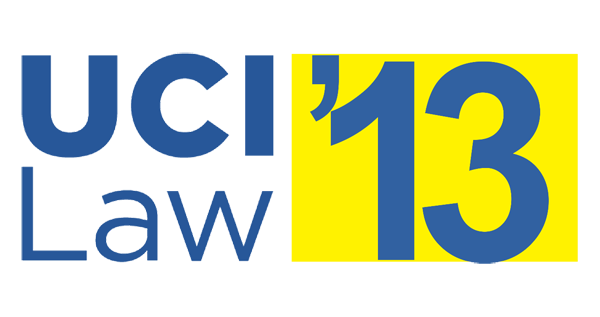 Dean L. Song Richardson and the Class Reunion Committee invite you to return and celebrate five years since the graduation of the extraordinary Class of 2013 at UC Irvine School of Law. Reunion festivities include formal and casual events to reconnect graduates with classmates, faculty and community lawyers who invested deeply in the success of the law school and this remarkable cohort of law students.
Friday, May 11, 2018
UCI Law Public Service Award Dinner
6:00–9:00 p.m.
The Fashion Island Hotel, Newport Beach
Awardee is  Congressman Adam Schiff
Special Reunion ticket price $100 per person Purchase tickets here >
More event details >
Saturday, May 12, 2018
Class of 2018 Commencement
9:30–11:00 a.m.
Aldrich Park, UC Irvine
No tickets required
Class of 2013 Family BBQ
3:00–7:00 p.m.
Banning House, UC Irvine
$25 per person, children under 12 at no charge.
Register by May 4, 2018
Reunion Committee
Angel Camino
Jenn Henry
Akhil Sheth
Meg Tanaka
Jigar Vakil
Map & Directions
Please note the exact location of the Saturday family BBQ: Banning House, #233 above Pereira Drive, on this map.
Driving directions to UC Irvine >
Parking Details
For Saturday's 2013 Reunion Family BBQ at Banning House (aka Antrepeneur Center): Recommended parking is in the Berkeley Place lot adjacent to the Law School at the corner of East Peltason and Pereira Drive ("BP" in red section near the upper right of this map). An Attendant will be present in this lot to provide parking passes from 2:30 –5:00 p.m. Parking is complementary if registered by May 4.
After parking, cross Pereira Drive, take the stairs up to walkway, use the ramp into the single story building immediately to your left and you are at our BBQ location. Banning House is #233, above Pereira Drive, on this map.
Golf carts will be available for anyone who needs assistance getting from parking to Banning House. Please contact Alumni Relations (click "Contact" below) to schedule transportation to the BBQ.
Contact
Mary Ann Soden
Director of Alumni Relations
(949) 824-9079