Back to Top
Class of 2014 Reunion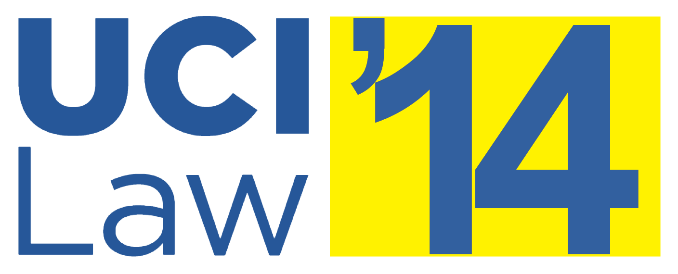 Dean L. Song Richardson and the Class Reunion Committee invite you to return and celebrate five years since the graduation of the extraordinary Class of 2014 at UC Irvine School of Law. Reunion festivities include classroom and casual events to reconnect graduates with classmates, faculty and staff who are deeply committed to the success of the law school and this remarkable cohort of law students.
By the way -- this is a partner and family friendly weekend!
Members of all other alumni classes are welcome to join us for Sunday brunch.
Saturday, August 17, 2019 - Reunion Day
11:30 a.m.-1:30 p.m.
Lunch with faculty. Enjoy a meal with a favorite faculty in small groups. Space is limited. Sign up with Brooke Weitzman. 
Location: Meals are hosted in various locations
1:00 p.m.-1:45 p.m.
Welcome and sign-in
Location: UCI Law Courtyard
1:45 p.m.-5:15 p.m.
Elimination of Bias CLE class with Prof. Michele Goodwin
Alumni panel on career transitions
Conversation with Dean Richardson
Location: EDU 1111, UCI Law Campus
Parking: Parking is available in the Social Sciences Parking Structure (map & directions).  General permits are $2 per hour.
6:00 p.m.-8:00 p.m.
Class of 2014 Reunion Soiree. Heavy hor d'oeuvres and delicious beverages under the stars
Location: Andrei's Conscious Cuisine, 2607 Main Street, Irvine, CA 92614. Andrei's is located between Jamboree Road and Mac Arthur Blvd on Main Street (map). 
Parking included: Valet or validation for the adjacent parking structure
Sunday, August 18, 2019 - All Alumni Summer Brunch
11:00 a.m.-2:00 p.m.
Champagne Brunch overlooking Newport Harbor. Open to all alumni and their families.  Marina Park offers children's play and swim area as well as UCI recreation rentals for SUP and kayaks for pre or post brunch activities.
Location: Marina Park Event Room, 1600 West Balboa Blvd. Newport Beach, CA 92663. Marina Park is on the Newport Peninsula at 16th Street (map). Parking is $2.30 per hour in the general lot. Register early for the Reserved East Lot Parking Pass (while supplies last)
Saturday - $40 (all activities)
Sunday Brunch - $40 per adult;  $15 children (ages 3-12); children under 3 are complimentary
Sunday Marina Parking Pass (6 hours) - $10 (limited supply; must also purchase a brunch ticket)
UCI Law School values and seeks engagement from all of our alumni. Keeping in mind that the costs associated with the weekend might prove to be a barrier for some to participate, we invite any alumni who would like to attend but find the ticket prices prohibitive to contact Mary Ann Soden in Alumni Relations.
Registratioin Deadline is August 6, 2019. 
Reunion Committee
Lauren McKay
Mimi Ahn
Leah Gasser-Ordaz
Lisa Faye Petak
Stefanie Wilson
Brooke Weitzman
Greg Wagner
Map & Directions
Campus events are in EDU 1111. Here is a campus map.
Driving directions to UC Irvine >
Parking Details
For Saturday's Campus events: Parking is hosted. The attendant will be in the Berkeley Place Lot adjacent to the Law School from 12 – 3 p.m. Registered attendees will be on a list, please give your name.
For Sunday's Brunch: There is a public lot adjacent to the Marina Park Community Center for $2.30 per hour and local street parking is available. Limited passes for 6 hours in the reserved East Lot are available via registration for $10 per car.
Lodging
Want to coordinate carpools or roomshares? Are you a local who can host a classmate for the weekend? Please use this travel and lodging spreadsheet.
Hotel with UCI event pricing:
Hotel Irvine UCI 2019 Rate - Friday through Saturday: $129, Monday-Thursday: $159; Book your stay directly on http://www.hotelirvine.com/uci or by calling reservations at 877-614-2137 or emailing a dedicated reservationist at hireservations@hotelirvine.com 
Contact
Jaclyn McVay
Associate Director of Alumni Relations and Annual Giving
jmcvay@law.uci.edu