Back to Top
Alumni Profile: Thea Alli '18, Associate at Morgan, Lewis & Bockius LLP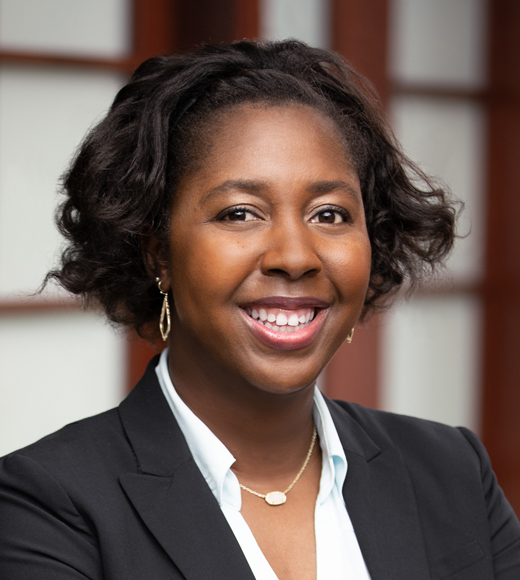 As a little girl, Thea Alli, UCI Law '18, dreamed of becoming an attorney. But when she enrolled in the U.S. Air Force Academy in 2001, the country was on the brink of war in the Middle East. After graduating from the academy, Alli served nine years as a personnel officer overseeing Force Support, which includes human resources for civilians and service members. She traveled the world and grew as a leader, but she never forgot her childhood dream.
By 2015, Alli had nearly finalized her decision to attend another California law school when she came to UCI's Admitted Students Weekend. There, she discovered the admissions dean knew her by name, the current students were engaging, the faculty welcoming and every lecture fascinating.
"I fell in love with UCI Law that weekend," Alli says.
Although Alli commuted to Irvine from L.A. every day, she became deeply involved with the UCI Law community.
She served as president of the Veterans' Advocacy Society, chaired the Black Law Students Association, joined the Public Interest Law Fund as well as the Center on Law, Equality and Race. Today, she says, her closest friends are her law school classmates.
"I emphasize this to anybody looking to go to law school: be all in. Go to every lecture that sounds interesting, go to every event, take a class you never thought you'd like," Alli says. "I got the most out of my UCI Law experience because I put a lot into it."
When Alli gave birth to her son during her third year, faculty and other students reached out with support and encouragement. Juggling family and law school wasn't easy, but Alli says, "I felt like people were invested in me, and they cared about whether I made it."
Building on her human resources experience, Alli decided to pursue labor and employment law and help make other workplaces better for employees. She identified Morgan, Lewis & Bockius LLP as a strong player in the field and went after a summer associate position that resulted in a full-time offer. Today, as an associate at the firm, Alli often conducts HR investigations for large companies, which can lead her to advise a company on ways to improve their personnel practices, or alert a board of directors that their CEO's conduct is a liability.
She says her training through UCI Law's Domestic Violence Clinic prepared her for the real work of being a lawyer.
"The first time I stood in a courtroom as counsel or submitted a pleading to a court, I was a student. You're fighting for a real client, and the stakes are real," says Alli. "So by the time I had to do that for my firm, I was prepared."
UCI Law also prepared Alli for an unexpected judicial clerkship. After speaking to the UCI Board of Visitors, a member of the audience was so impressed with Alli's remarks on diversity that he offered her a clerkship on the spot. It wasn't until Alli asked for his business card that she realized he was Judge Harris Hartz of the 10th U.S. Circuit Court of Appeals.
But Alli says UCI Law's connections can make even the unusual happen. After all, that's one of the reasons she chose UCI Law. Alli says, "My experience showed me that anybody who is willing to put in the work and leverage the opportunities at UCI can achieve their goals, whatever they may be."