Back to Top
Alumni Profile: Skyler Gray '14, Deputy Legal Counsel to Los Angeles Mayor Eric Garcetti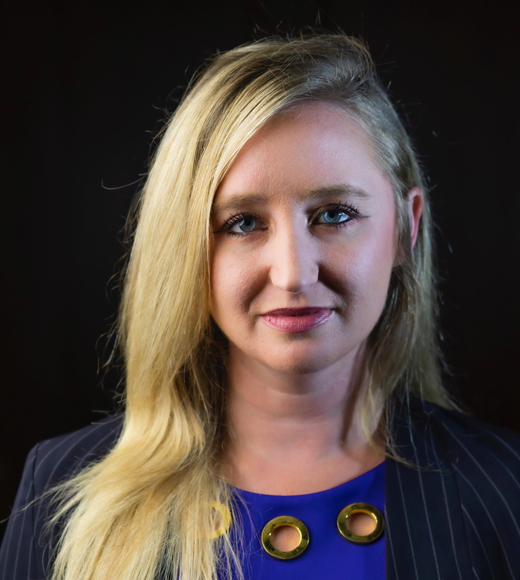 "When I was eight years old, Hillary Clinton was my role model. And for my second-grade class, I wrote a letter to the First Lady of the United States, and actually received a response from her. I remember being really touched by that. She worked in politics and had a law degree and that's when I knew I wanted to do the same," said Skyler Gray, Deputy Legal Counsel to City of Los Angeles Mayor Eric Garcetti and a 2014 UCI Law alumna.
Skyler's role models were -- and still are to this day -- women who work in government and in politics.
She grew up in the South Bay of Los Angeles County and received her Communications degree from UCLA. During her time there, she interned with Los Angeles City Councilwoman Janice Hahn. Finishing her undergraduate degree a quarter early, she worked for Hahn before beginning law school.
"I was always looking for women in leadership roles and in government, who have a say in making laws and policies, and I wanted to learn from them," said Skyler.
She applied to many law schools, but noted that UCI Law was her first choice. She knew a lot about then Dean Erwin Chemerinsky -- what he stood for and his reputation in constitutional law and civil rights. Skyler explained that she wanted to be a part of something new, a law school that was breaking away from the mold of a traditional law school.
"UCI Law was about equality and inclusion, about public service. I knew it was set-up for success with Dean Chemerinsky being involved. I was just very excited about going to school here."
During her time in law school, she was involved in the International Justice Clinic, headed by David Kaye. She was given the opportunity to travel to Northern Ireland to interview community members and former political prisoners about the distinction between combatants and civilians during the Troubles, who was classified as such and therefore had legal protections and safety in that time of political and religious unrest.
"It's an experience I'll never forget. We prepared all semester for our one-week trip – learning about humanitarian laws and international armed conflict, we set-up interviews and met with people all over Belfast – it was a wonderful learning experience."
Skyler graduated summa cum laude with a 4.0/4.3 GPA and received six Faculty Awards (highest performance in a course) and two Dean's Awards (second highest performance in a course) during her time at UCI Law. She clerked for a federal district judge in West Virginia the year after graduation.
In her current role as the Deputy Legal Counsel to Los Angeles Mayor Eric Garcetti, she provides legal advice to him and his senior staff in all policy areas, including homelessness, public safety, housing, immigration, climate change, ethics compliance, employment, transportation, economic development, and much more.
"A project that I'm currently working on is an initiative started by Mayor Garcetti and Los Angeles City Attorney Mike Feuer called LA Represents, which is a coalition of law firms, legal aid organizations, and attorneys who aim to provide pro bono legal assistance to individuals in need who have been adversely impacted by COVID-19. And, I'm really hoping to get UCI Law students involved as well."
She's also a Member at Large on the Executive Committee of the California Young Lawyers Association (CYLA), a branch of the CYLA which represents all lawyers in California who have been practicing eight years or less. As well as a Delegate to the American Bar Association (ABA) House of Delegates representing the California Young Lawyers Association, which is the ABA's governing body made up of attorneys and judges across the U.S. that votes on resolutions and proposals concerning changes and reform to the legal profession and policy positions.
In her various roles and in meeting prospective students and anyone interested in attending law school, Skyler says she always stresses that UCI Law is a great place to be.
"I want prospective students interested in government, policy, and public service to know how much UCI Law values those things and I want to stress that UCI Law is a great place for them and has amazing connections specifically in those sectors. I also want to encourage women to apply for law school, especially if they want to get involved in politics."
It's also the community at UCI Law that Skyler feels no other law school can compare to.
"It was never cut-throat and competitive. As classmates we were there to learn and help each other -- and if someone didn't understand something, we always helped one another figure it out. I found some of my closest friends through UCI Law and still keep in touch with many of my classmates. I'm not sure any other law school has that same community we did and do to this day."