Back to Top
Alumni Profile: Samrah Mahmoud '12, Partner at Troutman Pepper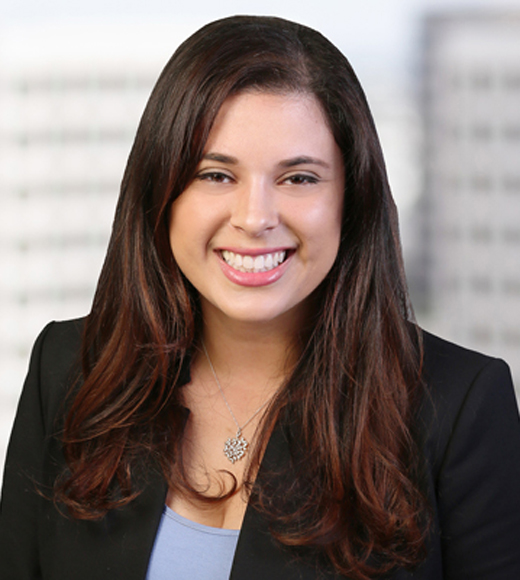 "My Mom was going through an international divorce, and I remember watching her deal with the confusion and fear surrounding the legal system – it can all be so difficult to navigate. As a lawyer, you're in the position to help people who can't navigate such a complex system on their own – and that really stayed with me," said Samrah Mahmoud, Partner at Troutman Pepper Hamilton Sanders LLP, and who graduated with the 2012 inaugural class at UCI Law.
It was that early experience that Samrah said resonated with her. She learned that the legal system can be complicated, what little power one may have without representation, and how difficult it could be to have a voice. It made her realize the importance of knowing her personal rights.
Her journey to becoming a lawyer wasn't a typical one, however. Samrah attended Chapman University as an undergraduate, originally majoring in Theatre. She then switched to Psychology – receiving her BA in Psychology and a minor in Theatre.
"People don't realize how much the three actually have in common! There are obviously some theatrical aspects to being a litigator, and at the same time you have to understand and express people's stories in both professions. And psychology is all about understanding people – and understanding people is very important in order to be a good lawyer," said Samrah.
She knew upon graduation that she wanted to attend law school. Toward the end of her time as an undergraduate, she began externing at a child abuse reporting clinic. She chose to attend UCI Law for many reasons – having been born and raised in Santa Ana, she wanted to stay in the community. The hands-on experience Samrah knew she would receive at the school was unlike anywhere else, and as she attended various 'meet-and-greets' as an admitted student -- and became familiar with faculty members and potential classmates, who she describes as incredibly warm and welcoming -- she knew this was going to be the right place for her.
"UCI Law had a vision and really focused on creating a supportive community, that appealed to me. And, that sense of community has only gotten stronger with time."
During her time at UCI Law, Samrah was involved in many organizations and activities. She accomplished more than 150 pro bono hours and graduated with pro bono honors. She was part of the Women's Law Society, Child Advocacy Program, and she did pro bono work with organizations like the Public Law Center, Kids in Need of Defense ("KIND"), and the Alliance for Children's Rights.  She was also one of the founding members of the school's Law Review, and eventually became a Senior Editor of the Law Review. She graduated summa cum laude from the law school in 2012.
Even now as a full-time Partner, she still devotes time to her alma mater, including teaching courses at UCI Law, speaking on panels at the law school regarding clerkships, and regularly volunteering for projects involving alumni. Samrah also has been part of the Alumni Association since graduating and serving as President in 2018. 
"The support from the community for UCI Law runs deep. And, that's what I would highlight to admitted students who are considering coming to law school here. You will get irreplaceable hands on experience through pro bono work, clinics, and externships; you will learn from top faculty alongside diverse colleagues at the top of their game; and you will do all of this in a community that really wants to help the law school and its students thrive."