Back to Top
Alumni Profile: Hollie Washington '16, Associate at Bryan Cave Leighton Paisner LLP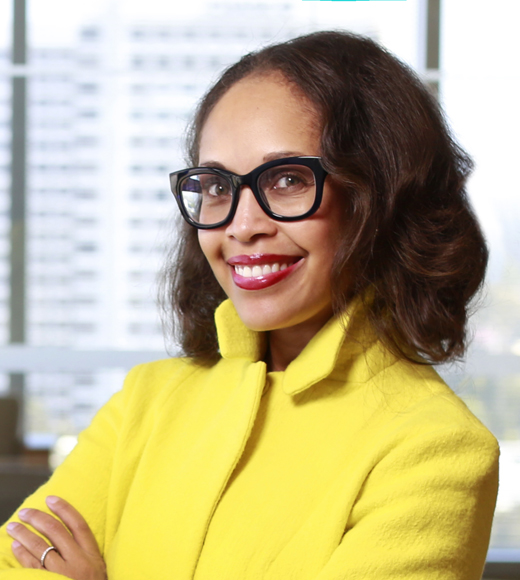 "I always intended to go to law school after graduating from college, but life happened and I didn't go – that's the short version of the story," said Hollie Washington, Associate at Bryan Cave Leighton Paisner LLP -- serving as the Vice President of the Thurgood Marshall Bar Association – and 2016 UCI Law graduate currently. "It wasn't until my uncle, who I was very close with became ill and I became his caretaker, explained to me all the things he wished he had done in life, that I realized I didn't want to die with any regrets. So, I knew I had to go to law school."
The long version, goes a little something like this. Born and raised in Tennessee, Hollie moved to North Carolina in order to attend Duke University as an undergraduate. She majored in psychology, and upon graduation moved to New York City to be with her boyfriend – all the while still hoping and expecting to go to law school.
"The relationship ended and so did my time in NYC.  I moved back to Durham, North Carolina and a couple of months later, I got a job offer in Charlotte– there was no law school there, so I suspended my thoughts and plans about law school and decided to pursue my Certified Financial Planner ™ designation. Life happened again as I bought a house and focused on paying my mortgage and paying off student loans," explained Hollie.
Fast forward to 2004 when she moved to Orange County, California continuing her role as a financial advisor. It was in 2008 that her uncle became ill, and she was hit with the realization that she had the power to accomplish things, to "check things off her to-do list" so to speak – and she didn't want law school to be one of the things she didn't check off.
Still, it wasn't until 2012, when she was sitting in front of a client who was walking away from her career to go to law school, that Hollie once again considered attending law school. Still, deep down, she thought she'd never go back to school.
"I was paying for two mortgages, one in California and one in Tennessee – I couldn't imagine incurring debt to go back to school all the while not working a full-time job and still having two mortgages."
It was recounting these stories to her partner, who then asked her if this was something she really wanted to do to which she responded yes. He got her a gift – a course which prepared her for the LSAT – which was the catalyst that got the ball rolling. She took the course, and then took the LSAT. She then applied to law school – UCI Law being her first choice because it was close to her home and she didn't want to move. In addition, there was the reputation of Dean Erwin Chemerinsky who'd left Duke University School of Law to become the founding dean of UCI Law.
She continued to work full-time, or tried to her first year of law school – but unfortunately, Hollie became ill. "I became really sick, so I couldn't work, I couldn't go to classes – I was in and out of surgery. However, that life or death situation taught me a lot – that I can only do what I can do, and whatever comes after I've put in my best efforts, well that's out of my control."
Hollie explained that she knew UCI Law was a great place to be before all of this happened, but it really became clear how special of a place it was after her health scare.
"I had heard horror stories of how competitive students were at other law schools, but that wasn't what I experienced here. Everyone helped out when I couldn't finish my first semester of law school – whether it was just checking in on me, or passing along class notes – they were there. On top of that, faculty and staff always make time for you if and when you need it -- UCI Law really is such a small, special community."
During her time as a student at UCI Law, Hollie was involved in many activities and organizations, including: serving as Co-Chair of the Black Law Student Association, and being a member of the Women's Law Society, Tax Law Society, and Students for Sensible Drug Policy. In addition, she volunteered with  the Saturday Academy of Law.