Back to Top
Alumni Profile: Eric Fanchiang '17, Associate at Crowell & Moring LLP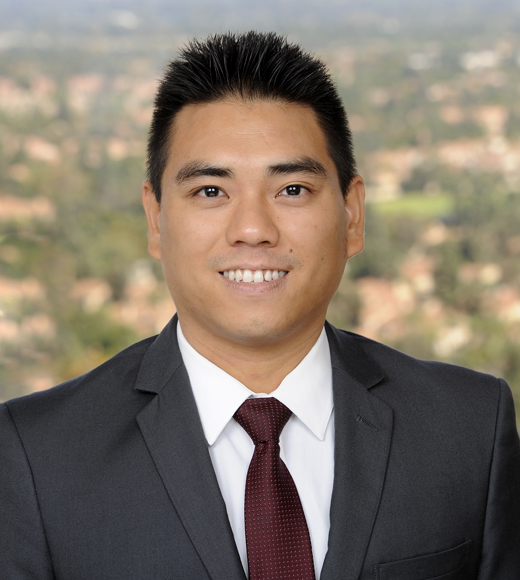 "I wasn't even supposed to be a lawyer," said Eric Fanchiang, UCI Law '17 and Associate at Crowell & Moring LLP. "There were two things my Mom didn't want her children to be – a lawyer or in the military.  And of course, my sister joined the Navy."  But, it wasn't in spite of his parents that Eric decided to study law and become a lawyer – and his route to becoming one wasn't exactly a 'typical' one.
Fanchiang pursued his undergraduate degree in the biological sciences at UC Irvine. After graduation he became a cook/nutritional planner for two years. During that time, he learned many valuable life skills such as how to work under pressure, teamwork and the importance of clear communication.  As he explained, when a kitchen does not communicate properly, things can go wrong very quickly.
It was then that he decided to pursue law school, as his perceived failure at the time taught him a lot. "I realized I wanted to do something that involved persuading people – like litigation - and I wanted to still be able to learn in the process."  He was also motivated by the fact that the law has such a huge impact on everyone's day-to-day lives, but few actually understand how the law actually works. Wanting to become someone who could help friends, family, and others navigate the complex system of rules that make up the legal system he applied to law school. 
He chose to attend UCI Law because of its proximity to his family in Los Angeles, though it was fairly new and unranked at that time. But, if anyone were to ask him now about where they should attend law school, his response to why UCI Law is completely different.
"UCI Law prepares you and understands that you go to law school to become a lawyer, not to be a law student," said Fanchiang. "My own firm noticed this – from writing, research, the emphasis on externships and clinics – you walk out of UCI Law with the core legal skills and are prepared to practice law."
During his time at UCI Law, he was the Co-President of the Asian Pacific American Law Students Association, served as the Community Programmer for the Veteran's Advocacy Society, and was the Director of Recruitment for the Trial Advocacy Society. He accomplished 50 pro bono hours as a 1L, and more than 120 hours in total, graduating with Pro Bono Honors.  He also was an editor of the UC Irvine Law Review and competed in the Global Antitrust Institute Invitational Moot Court Competition.  
Doing pro bono was among the best parts of going to law school he explained, saying that "it's a privileged position to be in – to have the legal power to help those who are underprivileged, and know you're making a difference in people's lives who might otherwise not have access to legal services."  He says having spent time on various pro bono projects, coupled with the emphasis on public service at UCI Law, trained him in key legal skills such as oral advocacy, research, and writing.
Now as an Associate at Crowell & Moring LLP, a law firm that primarily services large corporations, he still sets time aside for pro bono work. In addition, he's still involved at the law school. In 2017-18 he was the new alumni officer on the UCI Law Alumni Association Board, and currently serves on the governing council. Additionally, he will be recognized at UCI's 2020 Lauds & Laurels Award Ceremony and presented with a Distinguished Alumni Award, which recognizes UCI alumni whose personal or professional achievements bring honor and distinction to a particular school or discipline, UCI and/or the UCI Alumni Association.
His mom is no longer upset at her son for pursuing a career in the legal field. Instead, she is happy he is thriving in a career Fanchiang is passionate about.
Fanchiang had one more thing to say about UCI Law: "There are many things that make UCI Law a special place, but I would be remised if I didn't mention the amazing faculty and how well recognized they are in the legal field.  The quality of professors at the school is amazing, and yet at the same time they are so accessible to the students – it really adds to the caliber of this school and made going there a truly exceptional experience."