Back to Top
Alumni Profile: Crystal Caldera '17, Associate, Cooley LLP
Big Law and Social Justice Champion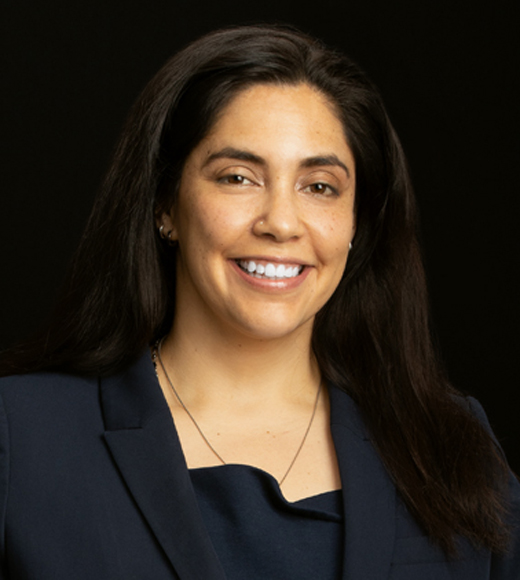 For Crystal Caldera, UCI Law '17, a career in Big Law has provided an ideal legal practice that she didn't even know existed as a first-generation high school graduate, and daughter of immigrants who worked hard to build a new life for their family. And it's provided a successful platform to change the world through her pro bono work. Recently, the Inner City Law Center named Caldera a Pro Bono Champion in recognition of her efforts on behalf of clients facing housing insecurity.
Caldera's parents came to California from Mexico as undocumented immigrants. Growing up, she was aware of lawyers only from television or usually in relation to bad news – immigration defense or trouble with the law. But her early experiences with inequity in her community fueled her drive to succeed and sparked her interest in social justice.
With their own education not exceeding middle school, Caldera's parents never let her question if she would go to college, just where. Ultimately, Caldera attended UCLA with a major in sociology and became a peer counselor for other first-generation students. She went on work in the field of social services and earn a master's in education specializing in counseling from California State University, Dominguez Hills, but was inspired to do more.
"I really wanted both an intellectual challenge and to be working with underserved people in the community," she says. "The lack of awareness of basic rules, procedures and laws that govern our society, like Social Security, made me want to practice law. But I also had questions about society that made me want to pursue sociology."
While exploring UCI's graduate program in sociology, Caldera discovered UCI Law's Concurrent Degree Program, which enabled her to pursue both of her dreams. Caldera is the first UCI student to earn a J.D./M.A. in Sociology.
---
"UCI was one of the few places that allowed you to craft your own pathway," says Caldera. "I felt like UCI Law itself was a pioneer, and I could be a pioneer there, too." 
---
After finishing her master's in sociology from UCI, with research exploring how race and immigration impact dating and marriage, Caldera began her J.D. program at UCI Law. She connected with classmates by joining the Latinx Law Students Association, and she got involved in the community through the Immigrant Rights Clinic and the Orange County expungement clinic, both of which gave her experience working directly with clients. In the summers, she externed in the Orange County Public Defender's Office and served as a legal intern at a federal community defenders group. Additionally, she was an editor on the UC Irvine Law Review and a member of the Mock Trial Board. Caldera graduated cum laude with pro bono honors from UCI Law.
It wasn't until her third year of law school — at the urging of her friends and UCI Law Career Development Office counselor — that Caldera decided to give Big Law a chance, and she accepted an associate position at Jones Day in the firm's San Diego office following graduation from UCI Law.
"The biggest thing I've learned is that it doesn't matter what anyone else wants for you. Don't operate from an 'I should' perspective," Caldera advises other students considering a range of career options. "But don't be afraid of change, either. If you discover something is not for you, you can be creative and make adjustments. Also, enjoy those law school connections! If I could go back I would have dedicated more time to developing those relationships and been more active in organizations."
Despite her obvious success, Caldera has struggled with imposter syndrome, both as a student and as a lawyer.
"Imposter syndrome is a huge thing I've dealt with and still do," says Caldera. "A lot of people of color, especially first-generation women like me, question whether we're sufficiently qualified —are we smart enough, do we have the right social capital, do we have the right resources, etc."
As a child, Caldera recalls studying for vocabulary tests in elementary school with her mother who was also learning much of the vocabulary for the first time.
"Sometimes we think everybody around us knows some secret formula that we don't, but that's just not true," says Caldera. "When I got to law school, I remember having to look up legal lingo from the readings and thinking, for a second, that I was the only one — but that couldn't be further from the truth. Most of us were on the same boat — learning 'law school vocabulary' for the first time… especially in Contracts."
"UCI saw each of us as whole human beings with reasons for being there," she adds. The supportive environment helped her learn to cope with those feelings. And as a lawyer, she's seen first-hand that more senior attorneys don't always have the answers, but they're always willing to go find them.
In 2019, Caldera joined her current firm, Cooley in its Los Angeles office, where she enjoys a robust legal practice in business litigation and government investigations.
"In Big Law, generally, you become good at thinking on your feet, learning as you go, and looking for the answers you don't know," says Caldera. "You're surrounded by the best and brightest, but anyone who goes to UCI Law is prepared for whatever gets thrown at them."
Pro bono work has been a significant component of Caldera's career at both Big Law firms. She worked on long-term cases, such as winning asylum for clients, as well as one-day clinics. When an email went out to Cooley attorneys asking for volunteers to work with the Inner City Law Center (ICLC) in spring 2021, Caldera was eager to help. She met clients and conducted research and advocacy on behalf of tenants at a time when rent control and eviction protection laws were rapidly changing in response to the economic impacts of the COVID-19 pandemic. Not only did the center appreciate the quality of Caldera's work on behalf of clients, but they surprised her by naming her a Pro Bono Champion in August.
"One thing I loved about working with ICLC was the client interaction, which we can sometimes miss when working on massive cases with large institutional clients in Big Law," says Caldera.  "The experience was just as beneficial for me as it was for the clients."
While Caldera serves as a role model for those who want to incorporate public interest as part of their career at a big firm, her parents have been overcome with pride since the day she was sworn in as a lawyer.
"To my parents, I represent the literal American Dream," she says. "It is really an honor and privilege."