Back to Top
A Cornerstone of the Curriculum
Practicing law under close supervision and with time for reflection is a fundamental goal of the UCI Law curriculum, and the clinical program, ranked No. 5 in the nation by U.S. News & World Report, is the most important means by which students achieve this goal.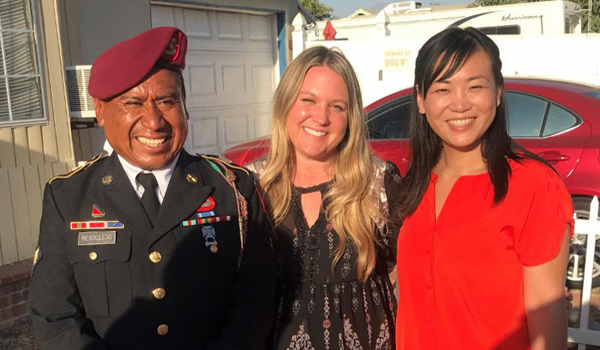 The heart of the UCI Law experiential learning program is the 6-unit core clinical course required of every student. Students may choose one of the different core clinics in which they act as the primary legal representative for their clients. Core clinics are taught by one or more members of our full-time faculty, all of whom have come to UCI Law after teaching in top-tier clinical programs around the country. The clinical faculty collaborate to ensure that the program offers a vibrant and diverse set of learning opportunities that will train our students to practice law in a wide array of subject matter and work environments. In addition to a guaranteed placement in one of UCI Law's 10 core clinics, second- and third-year students have the opportunity to enroll in an elective clinic. Second- and third-year students may also enroll in their core clinic for additional semesters.
Students in our core clinics work to solve problems facing individual clients and problems that affect a larger community, whether within a neighborhood, city, state, country or the world. Although the types of legal issues vary, the essential features of every core clinic at UCI Law include:
Students are the primary legal representatives for their clients;
Students engage in work on complex matters encompassing a wide range of advocacy methods, including litigation, transactional facilitation, policy advocacy and community education;
Students confront professional and ethical challenges in the course of their practice and learn how to exercise judgment;
Students work closely with clinic partners to protect and advance client and community interests; and
Students provide pro bono legal services to clients who otherwise would not receive them.
For students whose career ambitions will be better served by completing the core clinic requirement in an alternative field placement, we offer opportunities to work under the supervision of an attorney with an outside non-profit or governmental organization such as a district attorney's office or the U.S. Internal Revenue Service. Students in these alternative field placements, like students in our faculty-supervised core clinics, act as the primary legal representative of the organization or its clients. These students must also attend a weekly class taught by a full-time faculty member, in which students discuss professional, ethical and substantive legal issues that arise in their placement.
Our current clinical offerings are described on the following pages. We anticipate that the number and types of clinical courses will continue to increase as UCI Law continues to grow.
---
"We need lawyers who will strengthen the capacity of immigrant communities to solve the problems that they face. I appreciate that the Immigrant Rights Clinic has been an important partner in our work, both in California and in others parts of the country. I also appreciate that the Clinic trains students to be client-centered, adaptable, resourceful and strategic." — Pablo Alvarado, Executive Director, National Day Laborer Organizing Network
---
Core Clinics
Elective Clinics
Events
Southern California Clinical Scholarship Workshop
UCI Law's clinical faculty decided to create a series of workshops, bringing together clinical faculty from California and the southwest region, to pursue these goals:
Fostering critical thinking about clinical legal education through scholarship that is being produced by our colleagues;
Providing a venue at which clinical scholars are able to present their work to an audience that is in equal parts rigorous and supportive;
Nurturing a sense of community amongst clinicians in the region, so that we are more regularly in touch with each other about developments within our law schools and in the communities that we serve.