Back to Top
Moot Court Competition 2013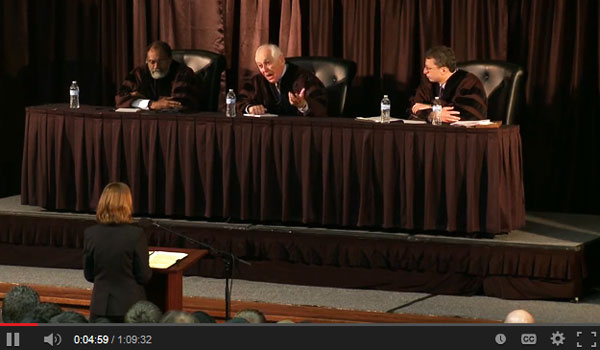 Final Results
Finalists: Jeff Klein, for the Respondent; Lisa Petak, for the Petitioner
Best Oral Argument: Lisa Petak
Best Brief: Nick Hartmann and Nancy Rojas-Hill
Runners-Up: (Tie) Tim Martin and Sirena Wu and Lisa Petak and Evan Sippel
Questions Presented
The real-life case argued during this competition: United States v. Trunk, a lawsuit charging that the 29-foot-tall, 12-foot-wide Latin cross at the center of the Mount Soledad Veterans Memorial in San Diego violates the Establishment Clause.
Key questions:
Do the complainants have standing to challenge the cross?
Does the cross violate the Establishment Clause?
Dates and Deadlines
Final Argument: April 5, 3:00 p.m.
UCI Student Center - Crystal Cove Ballroom

Finalists: Jeff Klein and Lisa Petak
Judges:

Semi-Finals: March 26
Semi-finalists:

Adam Barry
Nick Hartmann
Jeff Klein
Lisa Petak

Quarter Finals: March 19 to 20
Quarter-finalists:

Adam Barry
Andrew Benard
Nick Hartmann
Darren Kerstein
Jeff Klein
Lisa Petak
Nancy Rojas-Hill
Evan Sippel

Review Week: March 4 to 8
Round 2: February 25 to March 2
Round 1: February 19 to 23
Practice Arguments: February 9 and 10
Briefs Due: Friday, February 1, at 3 p.m.
Participating Teams
Jeffrey D. Klein, Lauren Gruber
Corey Lovato, Lauren McKay
Adriana Nunez, Kelly Suk
Nancy Rojas-Hill, Nick Hartmann
Andy Smith, Brooke Weitzman
Lisa Petak, Evan Sippel
Adam Barry, Darren Kerstien
Sirena Wu, Tim Martin
Sahar Naseery, Erna Mamikonyan
Dan Schieffer, Dexter Rappleye
Kevin Chi, Katie Pierucci
Leanna Costantini, Andrew Benard
Al Trudeau, Nicholas George
Jacob Barak, Amy Meier
Nick Stephens, Casey Reagan
Hank Hymanson, Andrew Kantor