Back to Top
Ballard Spahr LLP Mock Trial Spring 2016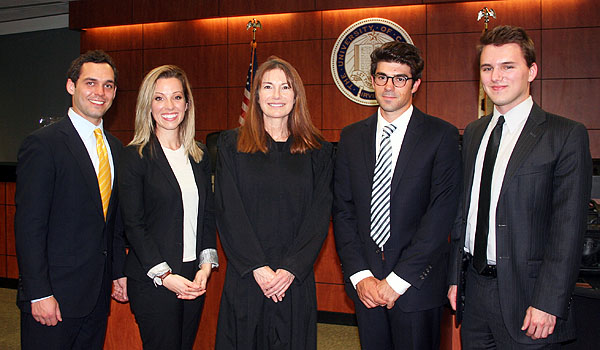 Results of Final Trial, March 16, 2016
First Place Team: Stephanie Johnson and Nick James
Second Place Team: Alex Ackel and Peter Ludlam
All four finalists demonstrated consummate professionalism and strong command of the Rules of Evidence and trial procedure. The final trial determined the team trophies; individual awards were based on performance in the preliminary rounds.
Competition Individual Awards
Best Advocate: Alex Ackel
Best Opening Statement: Stephanie Johnson and Kellye Ng McCullough (tie)
Best Cross Examination: Peter Ludlam
Presiding Judge of Final Trial
U.S. District Court Judge Josephine Staton
Case Argued
This year's competition featured a criminal murder case. The State alleges that John Drath shot and killed Steppen Walker with a small caliber pistol after Mr. Drath learned that his 17-year old daughter was in a relationship with the 22-year old Mr. Walker. Mr. Drath has asserted a defense of not guilty by reason of insanity.
Acknowledgements
UCI Law is grateful to Ballard Spahr LLP for its generous underwriting, and for its participation in all rounds of the competition.
Special thanks to U.S. District Court Judge Josephine Staton, who presided over the trial, and the attorneys (including several alums) who served as jurors/scorers.
Members of the Mock Trial Board—Crystal Caldera, Jennifer Kim, Ann Tran, Honieh Udenka, and Francis Yao— worked very hard over the last several weeks on the tournament's logistics. Tommy Du '15, a litigator at Wood Smith Henning and Berman, was the Board's advisor, and invaluable in providing training to the participants and overseeing the structure of the program. 1L Zackory Burns served as an expert witness, ably portraying the role of a forensic psychiatrist.
Scenes from Mock Trial Spring 2016