Back to Top
Mock Trial Spring 2014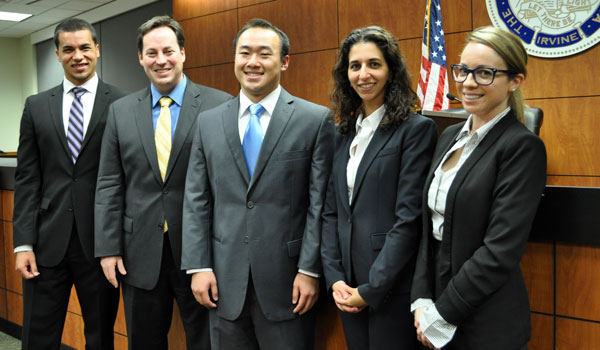 Results of Final Trial, March 19, 2014
First Place: Tommy Du and Erik Johnson, representing the Defendant
Second Place: Lupe Gonzalez and Nora Stefanos, representing the State
Judges of Final Trial
Orange County Superior Court Judge Fred Slaughter (Presiding)
Mark Brown
Dan Cornelious
Sabyl Landrum
Marissa Oxman
2014 Competition Individual Awards
Best Advocate: Tommy Du
Best Opening Statement: Chris Campbell
Best Cross Examination: Tommy Du
More than 30 students competed in Mock Trial this year. The case argued in the competition was a criminal DUI murder matter.
Though this was the third Mock Trial competition at UCI Law, this was the first that was run by students. The Mock Trial board members are: Irene Chen, Erica Choi, Tommy Du, Cait Emmons, Christine Fukushima, Becca Maloney, Amy Nguyen, William Ninh, and Daisy Ocampo.
Board advisor Justin Bernstein, a business and securities litigator at Stradling, provided training to the 30+ participants and oversaw the structure of the program. Bernstein, who has coached UCI Law Mock Trial since its start, is also the president-elect of the American Mock Trial Association, and the coach for the #1-ranked UC Irvine undergraduate team.
Scenes from Mock Trial Spring 2014