Back to Top
Student Profile: Jason Tkaczuk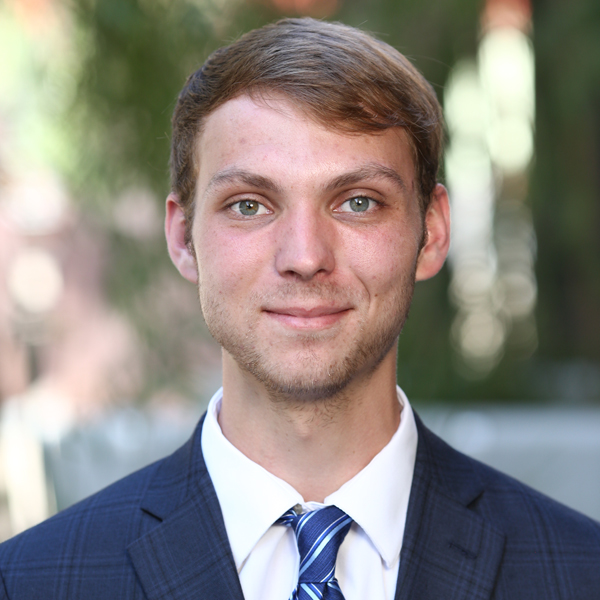 Name: Jason Tkaczuk
Email address: tkaczukj@lawnet.uci.edu 
Dual/concurrent degree you pursued: JD/MBA
Graduation year: MBA '18, JD '20
Research interests/agenda: Community economic development, critical race theory, civil rights law, drug policy & criminal justice reform, police accountability, international trade regimes, comparative politics, and international relations theory
Past Education: University of California, Berkeley B.A., Political Science; Freie Universitat Berlin, International Summer University Student
Academic Experiences, Awards and Honors:
Dean's Honors, Fall 2014 • UC Berkeley College of Letters & Science
Awarded to full-time students with GPA in top 4% of Letters & Science undergraduates.
Lawyering Skills Research Fellow to Professor Ezra Ross, Fall 2017 – Present • UC Irvine School of Law
Work closely with professor to educate students in first-year legal research and writing course. Critique students' legal memoranda. Consult students frequently to foster crucial skills and provide guidance for assignments.
Independent Study under Professor Nikki Jones, Fall 2015 • UC Berkeley Department of African American Studies
Transcribed videos of violent police/civilian interactions and ethnographic interviews of police officers in the field for faculty research.
Presentations, Publications and Speaking Engagements:
Pro Bono Legal Work
Los Angeles Police Department's Body Worn Camera Video Release Policy
Gathered community input on LAPD's officer body-worn camera video release policy for violent police-civilian interactions. Documented residents' concerns. Compiled contact information for elected officials' offices and notified them of community fora.
Proposition 47 and Record Expungement Clinic
Studied California record expungement and felony reclassification laws. Observed client interview with attorney.
Citizenship and Naturalization Fair
Studied federal naturalization law. Assisted clients with citizenship applications. Prepared and reviewed naturalization documents. Conducted fact-finding interviews. Corrected inaccurate application materials.
Employment/Career Highlights (positions, internships, externships, clerkships):
Equal Justice Society, Oakland, CA,  May–August 2017, Summer Law Clerk
Conducted legal research and composed legal memoranda for active litigation. Collaborated with co-counsel on weekly conference calls. Attended three-day conference on mind science concepts related to racism. Drafted case summaries for national network of critical race scholars and civil rights organizations.
What made you interested in pursuing dual degrees?
I began my legal education with no intention of pursuing a dual degree, but I reconsidered after learning about the perks of UCI's JD/MBA program. For only one more year compared to a traditional JD, students can earn an MBA as well. Business expertise and managerial skills are also particularly applicable to the legal field. Since I've always been interested in learning more about business and organizational management, a four-year JD/MBA was simply too sweet of a deal to pass up.
How would you describe your experience in the dual-degree program?
Pursuing dual degrees has been incredibly rewarding. I love that I can learn from a wide variety of disciplines through the JD/MBA program. I enjoy the pedagogical differences between the Merage School of Business and the School of Law; the group-based learning environment of business school was a welcome change after my first year of law school. The MBA program has also improved my advocacy skills and allowed me to expand my professional network.
How has the dual-degree program helped you achieve your goals?
UCI's dual-degree program has given me more flexibility in my career options, broadened my professional skillset, and provided me with opportunities to develop relationships with potential future clients. The JD/MBA program has also enabled me to better serve marginalized communities, as I will be using both aspects of my graduate education this summer to pursue community economic justice through a legal externship.