Back to Top
Student Profile: Anna Setyaeva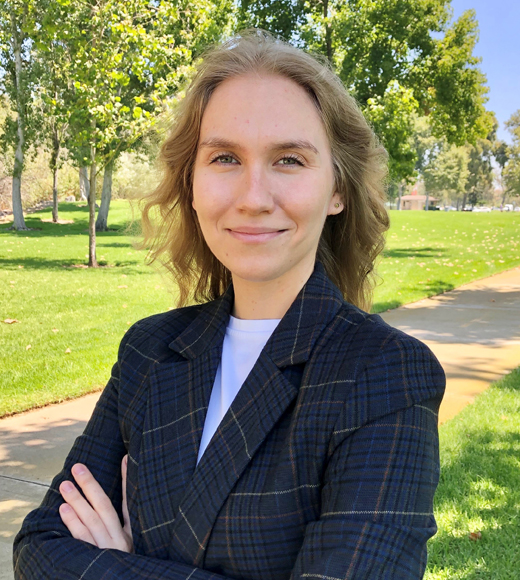 Email address: anna.setyaeva@uci.edu 
Dual degree you are pursuing: J.D., Ph.D. in Political Science
Expected graduation: 2023
Research interests/agenda: My research interests fall at the intersection of climate justice, immigration theory, and global inequality. I am particularly interested in climate refugees, people who are forced to leave their homes due to sudden or long-term changes in the local environment. As of today, there are no legal protections available to people displaced by climate change. Citizens of the Marshall Islands, Kiribati, Fiji, and other atoll nations currently find themselves in a precarious position: despite contributing the least to climate change, their countries are now experiencing an existential crisis because of the rising sea levels. In my dissertation, I hope to critique mainstream theories of immigration for their blindness towards environmental crisis and argue in favor of global environmental citizenship. 
Past Education: B.A. in Political Science and Government, minor in Spanish and Latin American and Caribbean Studies- Long Island University (2015)
Academic Experiences, Awards and Honors:
2020: Order of Merit- Outstanding Service Award
2020: Inclusive Excellence Ambassador
2019: Pedagogical Fellow
2015: Alfred DiMaio Award for Outstanding Achievement in Political Science 
2015: Jacob L. Holtzmann Award for Outstanding Achievement in Political Science             
2015: Distinction in Honors for Outstanding Scholarship in the Honors Program      
Presentations, Publications, Speaking Engagements:
2019: "Drowning Citizens: Where will the Marshallese go?," Paper Presentation at Association for Political Theory Annual Conference, Irvine, CA
2019: "Political Philosophy of J.J. Rousseau," Guest Lecture at University of California, Irvine
2017: "Harm Reduction Practices and the US War on Drugs," Guest Lecture at University of California, Irvine    
2016: "Deleterious Effects of the War on Drugs in Latin America," Paper Presentation at Latin American Studies Emphasis Meeting at University of California, Irvine 
What made you interested in pursuing dual degrees? 
The question of climate induced migration is understudied by both political scientists and legal scholars. The pursuit of a concurrent degree will allow me to conduct interdisciplinary research and contribute to filling the gap in literature regarding normative and legal implications of climate induced displacement. The pursuit of the JD degree will give me an opportunity to study law and connect legal principles and doctrines to questions of global justice and environmental inequality.