Back to Top
Student Profile: Paige Christie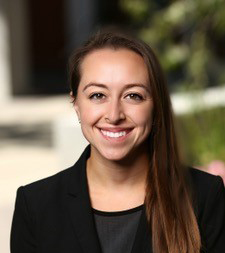 Dual degree you are pursuing: JD/MBA
Expected graduation: 2021
Research interests/agenda: Business Law, labor and employment law, IP law  
Past Education: Smith College B.A. Philosophy, Physiology
Academic Experiences, Awards and Honors:
Moot Court Winner 2018-2019
Pro Bono  1L "50-Hour" Award 2017-2018
NCAA Woman of the Year 2015
Employment/Career Highlights (positions, internships, externships, clerkships):
Superior Court of Orange County Judicial Extern
What made you interested in pursuing dual degrees? 
Pursuing my MBA was an academic endeavor I wanted to pursue, however, I thought it would have to be something I'd do later in my legal career. When I arrived at the UCI Law and heard they offered a dual degree JD/MBA in an accelerated time (1 year for the MBA vs 2 years), at two top programs in the country, I knew it was an opportunity I had to take advantage of. In this  way, I can transfer the knowledge I gain at the law school into the dialogue at the business school and vice versa. Further, I can tap into both schools resources, academic faculty, and alumnae networks. This has enriched my curriculum and has allowed me to maximize my academic insights.
How would you describe your experience as a dual-degree student so far? How has the dual-degree program helped you achieve your goals?
The dual degree experience has been a wonderful opportunity thus far and has helped me achieve my personal development goals. I have been able to cultivate a wide network of friendships with my colleagues from all different disciplines within both law and business, and from all different geographic locations all over the world. The digital age focus of the business school has provided insight into the kinds of complex legal issues that business will face in the future. This has changed the lens I view the law, and the lens that I view business innovations. Further, the soft skill development at the business school, such as the presentation skills workshop, has transferred to my pursuits at the law school where we engage in oral argument training and trial advocacy. Finally, I feel more confident in my ability to be an advocate for those with business issues, as I can better understand the way in which they view their businesses, and also understand the way in which the law applies to their issues.