Carrie Menkel-Meadow
Chancellor's Professor of Law
Joint appointment in Law and Political Science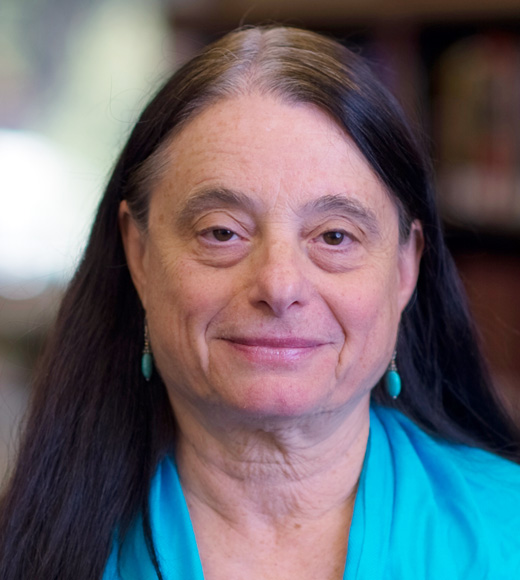 Background:
A founder of the dispute resolution field, Professor Menkel-Meadow came to UC Irvine School of Law from Georgetown University Law Center, where she is the A.B. Chettle, Jr. Professor of Dispute Resolution and Civil Procedure and Director of the Georgetown-Hewlett Program in Conflict Resolution and Legal Problem Solving. She has been the Faculty Director of Georgetown's innovative partnership with 20 law schools from around the world, the Center for Transnational Legal Studies in London, in which faculty and students from participating programs study international and comparative law in a multi-national setting.
Professor Menkel-Meadow was a professor of law at UCLA for nearly 20 years, also serving as a professor in the Women's Studies program, Acting Director of the Center for the Study of Women, and Co-Director of UCLA's Center on Conflict Resolution. She has taught as a Distinguished Visiting Professor of Legal Theory at the University of Toronto, a visiting professor at Harvard Law School, Stanford Law School, and as a clinical professor at the University of Pennsylvania.
As a Fulbright scholar in 2007, Professor Menkel-Meadow taught and conducted research in Chile, Argentina and China. An international expert in alternative dispute resolution, including international dispute resolution, the legal profession, and legal ethics, clinical legal education, feminist legal theory, and women in the legal profession, Professor Menkel-Meadow has written and lectured extensively in these fields.
She is the author of Dispute Resolution: Beyond the Adversarial Model (2nd ed. 2011); Negotiation: Processes for Problem Solving (2nd.ed 2014); Mediation: Theory, Policy & Practice (2nd ed. 2013); Dispute Processing & Conflict Resolution (2003), and over 150 articles. She has also been co-editor of the Journal of Legal Education, and the International Journal of Law in Context. In 2012, she published a three-volume set of edited books on Complex Dispute Resolution (Ashgate Press, 2012), including Foundational Processes, Multi-Party Processes and International Dispute Resolution.
In January 2011, Professor Menkel-Meadow was the recipient of the first-ever Award for Outstanding Scholarly Work presented by the American Bar Association's Dispute Resolution section. The ABA lauded her as a "tireless, prolific and influential researcher and writer" who put forth the transformative idea of lawyer as problem solver 25 years ago.
She also has won the Center for Public Resources' First Prize for Scholarship in Alternative Dispute Resolution three times (in 1983, 1990, and 1998), and she won the Rutter Award for Excellence in Teaching at UCLA and the Frank Flegal Teaching Award at Georgetown (2006).
Professor Menkel-Meadow also sits on numerous boards of public interest organizations and the editorial boards of journals in dispute resolution, law and social science and feminism. She has chaired the AALS Sections on Law and Social Science, Alternative Dispute Resolution, and Women in Legal Education, and has been on the Executive Committee of the Section on Clinical Education. She is a member of the American Law Institute and an elected member of the Academy of Civil Trial Mediators. She served for 10 years on the Board of Directors of the American Bar Foundation and is currently a member of the Board of the International Center for Prevention and Resolution of Disputes (CPR).
In addition to her scholarship, research and teaching, Professor Menkel-Meadow often serves as a mediator and arbitrator in public and private settings and has trained lawyers, judges, diplomats, and mediators in the United States and on five continents. She has consulted for such organizations and institutions as the United Nations, the World Bank, and the Federal Judicial Center on conflict resolution systems and processes.
Current Courses:
Prior Courses:
Comparative Constitutional Law, Feminist Legal Theory, International Legal Analysis, Negotiations & Mediation, International Dispute Resolution Processes and Institutions, Pre-Trial Lawyering Process, Civil Procedure, Process and Society (civil procedure in special enriched curriculum), Trial Advocacy, Legal Negotiation, Mediation and Dispute Resolution, Administrative Advocacy, Employment Discrimination, Legal Profession, Feminist Jurisprudence, Women and the Law, Jurisprudence of Sexual Equality, Multi-Party Dispute Resolution Workshop, Global Justice Summit, Negotiation, Complex Negotiation, International Legal Analysis
Carrie Menkel-Meadow, Mediation and Its Applications for Good Decision Making and Dispute Resolution (Intersentia Ltd. 2016).
Carrie Menkel-Meadow, Ethics of Compromise, in Global Encyclopedia of Public Administration, Public Policy, and Governance (Springer Int'l Pub., 2016). 
Penelope Andrews, Richard Goldstone, Carrie Menkel-Meadow, Robert Mnookin, Andrea Schneider & Jean R. Sternlight, Making Peace with Your Enemy: Nelson Mandela and His Contributions to Conflict Resolution, 16 Nev. L.J. 281 (2015).
Carrie Menkel-Meadow, Process Pluralism in Transitional/Restorative Justice: Lessons from Dispute Resolution for Cultural Variations in Goals Beyond Rule of Law and Democracy Development in Argentina and Chile, 3 Int'l J. Conflict Engagement and Resol. ___ (2015).
Carrie Menkel-Meadow, Mediation and Dispute Resolution Programs, in Oxford Bibliography in Criminology (Oct. 26, 2015).
Carrie Menkel-Meadow, In the Land of Blood and Honey: What's Fair or Just in Love and War Crimes: Lessons for Transitional Justice, in Framing Crime and Film: An Interdisciplinary Anthology (C. Picart, M. Hviid Jacobsen & C. Greek, eds., 2016).
Carrie Menkel-Meadow, Variations in the Uptake of and Resistance to Mediation Outside of the United States, in Contemporary Issues in International Arbitration and Mediation: The Fordham Papers (A. Rovine, ed., Nijhoof Publications 2015). 
Carrie Menkel-Meadow, Mediation, Arbitration and Alternative Dispute Resolution (ADR), in International Encyclopedia of Social and Behavioral Sciences 70-74 (James D. Wright, ed. 2nd ed. Elsevier, 2015).
Carrie Menkel-Meadow, Dispute Resolution Mechanisms, in Essential Concepts of Global Environmental Governance  (Amadine Orsini & Jean-Frédéric Morin, eds., Routledge/Earthscan, 2014).
Carrie Menkel-Meadow, Unsettling the Lawyers: Other Forms of Justice in Indigenous Claims of Expropriation, Abuse and Injustice, 64 U. Toronto L. J. 620-639 (2014).
Carrie Menkel-Meadow, Crisis in Legal Education? or The Other Things Law Students Should be Learning and Doing, 45 McGeorge L. Rev. 1-28 (2014).
Carrie Menkel-Meadow, Andrea K. Schneider & Lela P. Love, Negotiation: Processes for Problem Solving (2nd ed. Wolters Kluwer 2014).
Carrie Menkel Meadow, Lela P. Love & Andrea K. Schneider, Mediation: Practice, Policy and Ethics (2nd ed. Wolters Kluwer 2013). 
Regulating Dispute Resolution – ADR and Access to Justice at the Crossroads (Felix Steffek, Hannes Unberath, Hazel Genn, Reinhard Greger & Carrie Menkel-Meadow, eds., Hart Pub., 2013). 
Complex Dispute Resolution Vols 1-3 (Carrie Menkel-Meadow ed., Ashgate Press, 2012).
April 6, 2018:
Speaker, "Ethics, Technology, and Dispute Resolution Systems Design," 2018 ABA Section of Dispute Resolution Spring Conference, Washington, DC
March 30, 2018:
Speaker "Women and Negotiations," Women's Leadership Symposium: Los Angeles, Poynter Foundation for Journalism, Los Angeles, CA
March 15, 2018:
Keynote Speaker, "The Problems of Hybridity and Blending of Processes in International Dispute Resolution: Public and Private in Arbitration and Mediation," USC-JAMS Arbitration Institute Third Annual Symposium: Current Issues in International Arbitration, USC Gould School of Law, Los Angeles, CA
Dec. 3-5, 2017:
Keynote speaker, Legal Education Conference, UNSW Law School, Sydney, Australia
July 9, 2017:
Commencement speaker (video), KU Leuven, Belgium
June 13, 2017:
Panelist, "Ethics and ODR systems design," Equal Access to Information and Justice–Online Dispute Resolution conference, Paris, France
May 18, 2017:
Commencement speaker, George Mason University School of Conflict Analysis and Resolution (Livestream video, starts at 27:02)
Feb. 17, 2017:
Keynote speaker, "Alternative Dispute Resolution: the role of ADR and trials in civil dispute resolution," (video) Reforming Civil Justice: Key Challenges for the Future conference, Flinders University, South Australia
Nov. 16–18, 2016:
Keynote Speaker, "Negotiation: Where we came from and where we should be going," Panelist, "What Difference does Gender Difference Make in ADR?" and Speaker, "Negotiating with Scripts and Playbooks," 6th International Biennial on Negotiation, Novancia Business School in Paris
Oct. 14-15, 2016
Keynote Speaker and Workshop leader, 18th Annual Conference of the Mediators' Institute of Ireland
Sept. 29, 2016:
Guest speaker, presenting "Mediation and its Applications to Good Decision Making and Dispute Resolution," The Mediation Society 18th Annual Members Dinner, San Francisco
June 27, 2016:
Guest Lecturer, "Scaling up Dispute Resolution for Deliberative Democracy in Public Policy," University of Hong Kong Faculty of Law
June 8, 2016:
Featured Lecturer, "Why and When We Mediate: The Jurisprudential Justifications for a Non-Adjudicative Process," Queen Mary University of London School of Law
May 23-25, 2016:
Participant, 15th ODR Conference, The Hague
April 19-20, 2016:
Speaker and commentator, ADR and Justice Conference, University of Oxford
April 12, 2016:
Speaker, presenting lecture on "Variations in the Uptake of and Resistance to Mediation Outside of the US," University of Torino, Italy
Feb. 10, 2016:
Awardee, Honorary Doctorate, presented by KU Leuven University, Belgium
Feb. 10, 2016:
Honorary Doctorate, presented by KU Leuven University, Belgium
January 2011: Professor Menkel-Meadow is the recipient of the first-ever Award for Outstanding Scholarly Work presented by the American Bar Association's Dispute Resolution section.
2006: Rutter Award for Excellence in Teaching at UCLA, and the Frank Flegal Teaching Award at Georgetown
1983, 1990, 1998: Repeat winner of the Center for Public Resources First Prize for Scholarship in Alternative Dispute Resolution