International Justice Clinic
The students in the International Justice Clinic work with activists, lawyers, diplomats, scholars and NGOs at home and around the world to develop and implement advocacy strategies concerning accountability for violations of human rights law. Clinic students pursue research, engage in on-the-ground fact finding, conduct interviews in cross-cultural settings and prepare written and oral reports of their findings. Students focus on oral and written advocacy, coalition building, legal research and legislative drafting. The clinic was named one of the Top 15 Most Innovative Clinics in the country by National Jurist's preLaw magazine.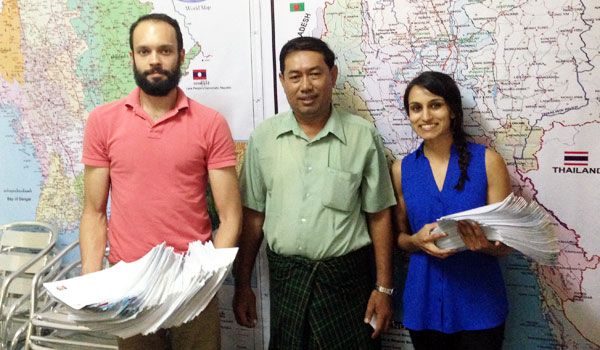 The Clinic has been involved in a number of major projects in recent years, including promoting the interests of former political prisoners in Burma/Myanmar, preparing a shadow report on U.S. border issues for the treaty-based Committee on the Elimination of Racial Discrimination (CERD) and advancing global support for the International Criminal Court, especially in the UN Security Council.
The Clinic is also working with the Los Angeles County Human Relations Commission to address human rights implementation at the local level, reporting on countywide efforts to implement human rights obligations of the United States and building a permanent mechanism to monitor human rights at the local level.
In June 2014, Clinic director Professor David Kaye was named the United Nations Special Rapporteur to monitor, promote and protect freedom of opinion and expression around the world. Clinic students will support the Special Rapporteur work by investigating problems in such areas as the protection of journalists, artists, academics and various "new media" practitioners (like bloggers), the impact of surveillance on free expression, the right to access government information, the regulation of hate speech and other subjects that touch on the international right to freedom of expression. Clinic students also will explore specific country situations and help develop regional networks of defenders committed to free expression.
---
"We traveled to Northern Ireland to interview former combatants and civilians about how they viewed the legal protections that cover civilians during conflict. We immersed ourselves in research on humanitarian law, international armed conflicts, the history of the conflict in Northern Ireland and appropriate interview techniques for trauma victims. It was an unparalleled experience. I not only acquired valuable practical skills but also gained the confidence to know that I can analyze, dissect and understand real-world, complex legal questions in stressful situations and under deadlines."
Adam Barry '13, Associate, Munger, Tolles & Olson LLP, Los Angeles
---
Global and Local Support for Human Rights and Accountability
Projects of the International Justice Clinic have included:
Former Political Prisoners in Burma/Myanmar: The Clinic laid the ground work for long-term engagement with lawyers, educators, former political prisoners and activists in Burma/Myanmar in 2013 and 2014. The Clinic has been collaborating with the Assistance Association of Political Prisoners (Burma) to develop a survey of former prisoners' needs and the harms they suffered over years of detention.
Human Rights and Los Angeles County: The Clinic has launched an innovative collaboration with the Los Angeles County Human Relations Commission. The United States is party to several major human rights treaties, but those treaties are rarely implemented at the state and local level. As part of an effort to make human rights an explicit element of L.A. County work, the Clinic is reporting on how local governments already implement human rights law.
UN Security Council and the International Criminal Court: The Clinic has studied the relationship between the Security Council and the ICC, advocating for concrete ways to improve support for the Court. Clinic students participated in project design, interviews and preparing reports that provide information and suggested measures. The Clinic hosted an international conference on the subject in late 2012 and released a major report in the spring of 2013. In March 2014, Clinic faculty and students traveled to China to continue discussions at an international workshop, co-sponsored by the Clinic, where scholars, judges from the ICC and the war crimes tribunal for the former Yugoslavia, Chinese foreign ministry officials, research analysts and other leading figures discussed the Council's role in international justice, regional organizations' support, and Russian, American and Chinese policy toward international justice.
Project on Direct Participation in Hostilities: Students worked in collaboration with the Washington, D.C.-based Center for Civilians in Armed Conflict, conducting research to assess civilian understanding of when they become "participants" in armed conflict and thus subject to detention, targeting and other measures. Students and faculty conducted interviews in Northern Ireland in 2013 and completed a report in 2014.
In the News