Immigrant Rights Clinic
The Immigrant Rights Clinic represents individuals and organizations on critical issues affecting low-income immigrants in the region. Students work under the close supervision of experienced clinical faculty to provide pro bono resources on a range of legal issues, from detention and deportation matters to workplace exploitation and the protection of civil and constitutional rights of immigrants.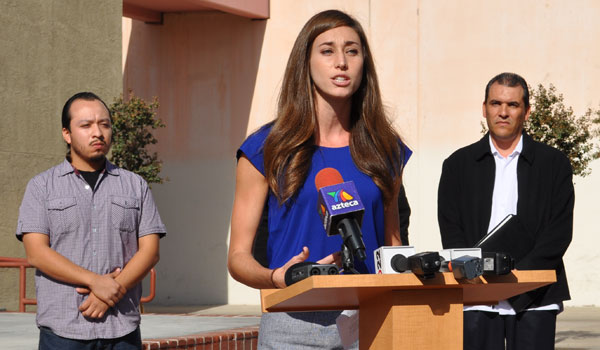 Clinic students litigate on behalf of clients in federal and state courts and before administrative agencies. They develop traditional lawyering skills, such as client interviewing and counseling, fact investigation, legal drafting and trial presentation. In addition, modern legal practice demands problem-solving methods beyond those skills. Immigrant communities targeted by aggressive law enforcement initiatives have been sites of innovative social and political organizing. The Clinic supports that work by partnering with organizations to conduct community education and advance policy reform campaigns. Through rigorous, structured reflection, students distill lessons about legal practice from their fieldwork.
---
"In the Immigrant Rights Clinic, suddenly all the law I had been learning had a new meaning and a new purpose: helping our client. It completely changed the way I interpreted the rules and principles I was learning; instead of asking only, 'What do the rules mean?' I had to ask myself, 'What do they mean for our client?' The law was no longer an intellectual exercise but a matter of life and death. My clinic client has remained with me as a constant reminder of the law's potential for justice and injustice for each individual, and is a constant reminder of why I became a lawyer."
Alisa Hartz '12, Attorney, Public Counsel, Los Angeles
---
Support to Strengthen Immigrant Communities
In recent semesters, Clinic students have engaged in creative legal advocacy to help clients achieve their goals, including:
Representing immigrants detained at the Adelanto Detention Center in bond hearings
Drafting U-visa applications for exploited day laborers
Winning back wages owed to hotel cleaning staff in Long Beach and Los Angeles 
Defending children referred to federal immigration authorities by Orange County
Publishing a widely cited report on the harmful effects of Orange County referring children to immigration authorities
Providing assistance to the Orange County Alternate Defender's Office on the immigration consequences of criminal convictions
Filing a federal suit in Maricopa County, Arizona, to challenge the criminalization of immigrant workers
Litigating on behalf of warehouse workers against exploitative employers in the Inland Empire
Documenting detention conditions for Trans immigrant detainees at Santa Ana Jail
Advocating on behalf individuals and families affected by the imposition of gang injunctions in Orange County
Organizing legal clinics with the Warehouse Workers Resource Center and the Orange County DREAM Team
Publications/Resources
Case Materials
Core Competencies
All students handle at least one litigation case and one non-litigation advocacy project. Students work in teams of two or three on all clinic projects. With the permission of the presiding judicial or administrative officer, students serve as the primary legal representative for their clients in all hearings before state and federal courts and agencies.
Foundational Lawyering Skills: Students interview clients, undertake fact investigations, disentangle procedural rules, draft complaints and legal briefs, conduct direct and cross-examinations, and negotiate with opposing parties. Through both intense individual immersion and collaborative learning across clinic teams, students are assured of exposure to a range of skills and knowledge bases. 
Participatory Litigation: IRC contextualizes traditional legal skills in a participatory framework and students work with clients as collaboratively as possible.
Policy Advocacy: Modern legal practice requires basic policy advocacy skills, such as knowledge of legislative drafting, framing techniques, grassroots lobbying methodologies, and media advocacy, to complement litigation expertise.
Know Your Rights and Community Education: Students engage in know-your-rights and community education programs, especially ones constructed to be sustained by our community-based collaborators.
Lawyers and Client Mobilization: Students work with community-based organizers because lawyering alone does not advance justice. Through these collaborations, students explore the strategic and ethical challenges posed by a mode of practice that aims to mobilize clients, in addition to asserting legal rights and defenses on their behalf.
Strategic Judgment: As lead counsel on multi-modal advocacy projects, students participate and contribute to the development of social and economic justice campaigns on behalf of individuals and organizations.
Learn more about the Immigrant Rights Clinic (PDF) >
In the News