Appellate Litigation Clinic
The Appellate Litigation Clinic provides students with experience in legal research and analysis and provides them with an opportunity to build upon oral advocacy skills.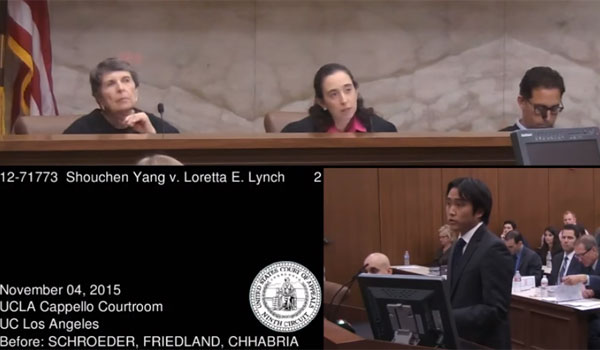 Students in the Appellate Litigation Clinic brief and argue cases in the United States Court of Appeals for the Ninth Circuit. The Clinic represents clients who range from political asylum seekers to prisoner civil rights claimants. The Clinic is effectively the clients' last chance to secure any relief, making the stakes high and the work exciting and rewarding. The Clinic also requires students to take real responsibility and ownership in their commitment to their client and work product.
The Clinic offers students the rare opportunity to develop a legal theory, work with a trial court record, prepare and file polished briefs, and then do something that many esteemed litigators have not done: argue in front of a three judge appellate panel.
Whether they win or lose in court, the students gain real-world training from experienced appellate attorneys in an exciting and engaging context where they match wits with experienced opposing counsel.
---
"To cap off my final year of legal training I, along with fellow classmate Stefanie Wilson, had the great honor of arguing a real case before the Ninth Circuit Court of Appeals. As students in the Appellate Litigation Clinic, we represented a pro se litigant and wrote the opening and reply briefs before arguing before the judges. We got to learn from truly the best in the business." — Lisa Faye Petak '14, Associate, Weitz & Luxenberg, New York City
---
Offering a Final Chance for Relief
The Clinic took on a political asylum appeal by an Armenian woman of Yezidi ethnic and religious background. Yezidis have historically suffered persecution in Armenia, and when the client complained about Armenian government abuses, she was kidnapped, beaten and subjected to continuing death threats by army forces. She managed to escape to the United States, but when she sought political asylum, she was denied by our immigration courts. Her only avenue to avoid deportation back to Armenia was an appeal to the Ninth Circuit. Clinic students developed a legal theory to challenge the immigration courts' rejection of her political asylum claim. The students then argued her appeal before Ninth Circuit judges, facing off with Department of Justice lawyers. The students won. The client now lives safely in the United States.
Learn more about the Appellate Ligation Clinic (PDF) >
News Features
Students represent real-life clients before federal appeals court