Appellate Litigation Clinic
The Appellate Litigation Clinic provides students with experience in legal research and analysis and provides them with an opportunity to build upon their oral advocacy skills.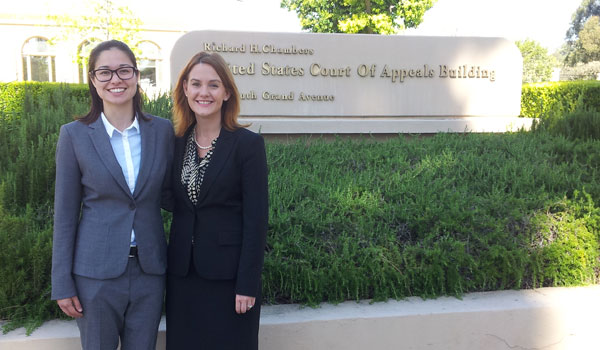 Clinic students represent a client in an appeal to the Ninth Circuit Court of Appeals.  Students will (in almost all cases) meet the client and investigate the issues on appeal, review the trial record, develop and research a theory and write an Opening Brief, Reply Brief, and then, ultimately, argue the case before the Ninth Circuit.  The substantive nature of the cases is often immigration (political asylum cases, cancellation of removal, ineffective assistance of counsel), although it can be prisoner § 1983 civil rights cases on behalf of inmates, or habeas cases.
News Features
Students represent real-life clients before federal appeals court
Contacts
Directors: Peter Afrasiabi (pafrasiabi@onellp.com) & Kathryn Davis* (kathryn.davis@kmdavislaw.com)
*Kathryn Davis is a certified appellate specialist whose practice is dedicated exclusively to civil appeals. Prof. Davis has co-taught the Chapman Federal Appellate Advocacy Clinic for the past two years. She started her own civil appellate firm after seven years at Latham & Watkins and has extensive experience practicing before the U.S. Court of Appeals for the Ninth Circuit, the California Court of Appeal, and the Supreme Court of California.


Staff: Debi Gloria, Law Clinic Administrator
dgloria@law.uci.edu
Phone: 949-824-9646Fax: 949-824-2747
401 E. Peltason, Suite 1000
Irvine, CA  92697-8000