Anna Bennett & Stefanie Wilson / Class of 2014
Anna Bennett and Stefanie Wilson: Dedicated Advocates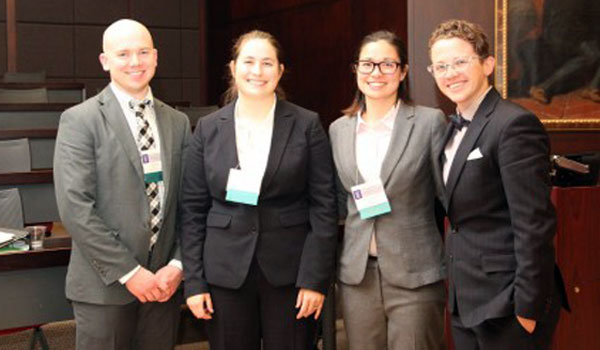 3Ls Anna Bennett and Stefanie Wilson are leaders of the Student Animal Legal Defense Fund chapter at UCI Law, and are proving their mettle as animal advocates in the courtroom and the community.
Representing UCI Law for the second time in the annual National Animal Law Competition, Bennett and Wilson recently swept the trifecta of awards in the 2014 NALC Appellate Moot Court Competition held at Northwestern University School of Law. The team's outstanding performance earned them first place in the competition and "Best Brief," while Bennett was awarded "Best Oral Advocate." View video of Bennett and Wilson in the Final Round >
Last year, the pair placed third out of 17 teams in the 2013 Appellate Moot Court Competition, an impressive first-time showing.
Wilson launched UCI Law's chapter of the Student Animal Legal Defense Fund, which has grown in popularity and activism. The UCI Law chapter was recently recognized by the national organization for the full slate of activities the students organized during National Justice for Animals Week, Feb. 24-28, 2014. SALDF hosted educational and thought-provoking events each day that week, ranging from speakers on animal-rights issues and legislative efforts to a screening of Speciesism: The Movie. SALDF students also regularly organize creative fund-raising activities (bake sales, calendar sales and more) to support other advocacy efforts and groups such as the Society for the Prevention of Cruelty to Animals.