Curriculum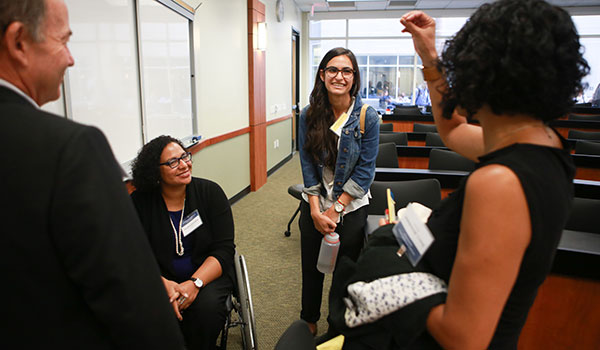 LL.M. in American Law

Number of units: minimum 24 units

Required Courses, for LL.M. students only
8 units total (4 fall term, 4 spring term)
Introduction to American Law
This course is designed to introduce foreign lawyers to the legal system in the United States and the fundamentals of American law.  Students will learn about the basic structure and operation of American government, with an emphasis on how cases progress through the court system.  The class will examine differences between the American common law legal system and civilian systems.  Students will become familiar with foundational principles underlying the American legal system, such as judicial review, due process, equality, and others.
RESEARCH, ANALYSIS, AND WRITING IN AMERICAN LAW
In this course, foreign lawyers will learn how to research American law, how to perform common law analysis, and how to write research memoranda. Students will complete a series of written assignments throughout the term to practice these skills.  Instructors will provide extensive feedback via written comments and one-on-one conferences.
AMERICAN LEGAL PRACTICE IN CONTEXT
This course will introduce foreign lawyers to the actual practice of law in the United States.  Through a combination of simulated exercises, field trips, and other experiential learning activities, students will learn first-hand about what it might be like to work as an attorney in the U.S.  Students will also continue to develop their research, analysis, and writing skills by completing various written assignments throughout the term.
PROFESSIONAL RESPONSIBILITY, GLOBALIZATION, AND THE LEGAL PROFESSION IN THE UNITED STATES
In this course, foreign lawyers will be introduced to the basic rules of professional responsibility that regulate the American legal profession, with a focus on the California Rules of Professional Conduct. The class also provides an understanding of various legal practice settings in which LL.M. graduates might work in the U.S. or interact with in a transnational practice in their home countries – in particular, corporate law firms, so-called "boutiques," solo and small firms, and a variety of nongovernmental organizations and public interest law firms. Guest speakers will provide some of the context of internationalized legal careers and also serve as mentors, sharing their experiences with LL.M. students from outside the United States. 
Elective Courses
12-16 units total, from the upper-division J.D. program.
The LL.M. curriculum includes a broad range of classes from across the upper-division J.D. curriculum. Students will be permitted to choose a program that best suits their individual needs and interests with professional screening. Students should meet individually with the LL.M. Program staff to determine their course of study and receive guidance on issues including eligibility to sit for a U.S. bar examination.
Pre-Semester Orientation
Students are required to attend an intensive and substantive orientation prior to the start of fall semester. This three to four-day orientation will cover an introduction to the American legal system, what to expect in law school classes, basic outlining and studying techniques, and other important topics for the new LL.M student.
Contact
Khary D. Hornsby
Assistant Dean for LL.M. and International Programs
khornsby@law.uci.edu
(949) 824-4387
Mary Germain
Senior International Programs Administrator
mgermain@law.uci.edu
(949) 824-5335