Study Rooms
Study rooms are exclusively for UCI law students. All of our study rooms have whiteboards, tables, and task seating. For questions about the study rooms, please contact the
Circulation Services Manager
.
How do the study rooms work?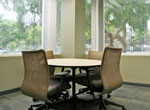 Some are unrestricted. Four study rooms (2080, 2082, 2084, and 2088) are available for unrestricted use by UCI law students. For these rooms,

there are no check outs, no overdue fines, and no group-use requirement.

If you'd like to use one of the unrestricted rooms, just walk over and pick an empty one.
Some check out to groups. If the unrestricted rooms are full, there are six more study rooms that can be checked out for group use.
If you'd like to use one of the group-use rooms:  

Check out a room key at the Service Counter. You can keep the room for 3 hours at a time. 
As long as nobody else is waiting for a group-use room, you can renew the key for another 3 hours at the Service Counter.

Late fee is $2.00 per hour (or portion of an hour).

Group study rooms must be used by groups of two or more law students.

One has technology. Request Room 1020 if you need use of a computer, webcam, and 60 inch display. Some possible uses include working on documents or PowerPoints, viewing a film, and using Skype or Google Hangouts to video chat. To ensure availability of this technology, advance reservations are permitted for this room.
Big groups. Let us know if your group has five or more people, so we can see if a larger room is available.
Standard library rules apply to all study rooms. 
Service Counter:
(949) 824-6961
Reference:
(949) 824-6746
Hours and basic information:
(949) 824-2404