Mario Barnes
Professor of Law
Senior Associate Dean for Academic Affairs
Co-Director, Center on Law, Equality and Race
Joint appointment in Law & Criminology, Law & Society
Faculty Affiliate, Center in Law, Society & Culture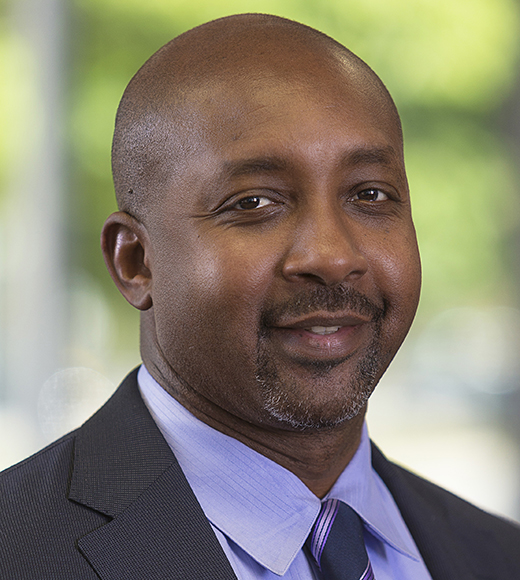 Expertise:
Constitutional law, criminal law, discrimination law, national security
Background:
Professor Barnes writes and teaches in the areas of criminal law, constitutional law, national security law, and race and the law.
Current Courses:
Prior Courses:
Race & the Law, Evidence, Statutory Analysis, Substantive Criminal Law, National Security Law Seminar, Identity, Crime & Justice, Drug Discovery, Development & Commercialization, Critical Identity Theory, Constitutional Analysis I, Statutory Analysis, Critical Identity Theory & Law Identifying Reading Group, National Security Law, Constitutional Analysis II
July 10, 2017:
Panelist, "Why We Can't Breathe: Police Violence Against People of Color in Urban America and the Distorting Prism of Race," 35th International Congress on Law and Mental Health, Charles University, Prague
Feb. 3, 2017:
Presenter, "A Hair Out of Place: Culture, Biology and Judicial Misunderstandings of Identity in the Workplace," Panel: Alternative Frameworks for Understanding, Women and the Law Conference 2017, Thomas Jefferson School of Law
Jan. 10, 2017:
Panelist, "Dangerous Spaces: Beyond the Racial Profile," University of Miami School of Law
Nov. 18, 2016:
Moderator, panel "Doctrinal Reflections on Washington v. Davis," Yale Law School e-CRT Conference
Nov. 10, 2016:
Moderator, panel at ABA Labor and Employment Conference, Chicago
Oct. 25, 2016:
Speaker, "Policing As If 'All Lives Mattered': Critical and Empirical Approaches to Disrupting the 'Common Sense' of Racialized Police Violence," Influential Voices Series, Seattle University School of Law
Oct. 7, 2016:
Chair, Panel on Street-Level Policing, Race and Policing Symposium, UC Irvine
July 19, 2016:
Panelist, "The Reality of Law and Order Regarding Color, Race, and Gender," National Bar Association 91st Annual Convention, St. Louis
April 7, 2016:
Moderator, panel discussion "Intersectionality Issues in the Black Lives Matter Movement," Beating Mental Illness: A Dialogue on Race, Gender and Disability Stereotypes in Use of Force Cases conference, USC Gould School of Law
Feb. 28, 2016:
Speaker, "Policing As If All Lives Matter: Disrupting the 'Common Sense' of Racialized Police Violence" at The Forum at Grace Cathedral
Jan. 29, 2016:
Keynote Speaker, Symposium 2016: Policing in America, Washington and Lee University School of Law, Lexington, VA.
Nov. 20-21, 2015:
Participant, The Present and Future of Civil Rights Movements: Race and Reform in 21st Century America, Duke Law School
October 24, 2015:
Presenter, "The Color of Dangerousness?: Managing Perceptions of Race in Self-Defense and Sentencing," Inaugural UC Conference on Social Science and Law, UCI Beckman Center
Oct. 12, 2015:
Moderator, "Cyber-Security, Data Breach and Privacy: A Dialogue on the Rising Risks and Evolving Legal Landscape" Seminar, Los Angeles City Club
Oct. 9, 2015:
Keynote Speaker, Critical Race Theory and Empirical Methods, Wisconsin Law Review Symposium, University of Wisconsin Law School
Oct. 2, 2015:
Panelist, Standing on the Shoulders of Giants: Celebrating 100 Volumes of the Minnesota Law Review Symposium, University of Minnesota School of Law
December 2015: Prof. Barnes one of top 20 law professors furthering diversity efforts in legal education, The National Jurist
January 2015: 2015 Clyde Ferguson, Jr. Award, Association of American Law Schools, Minority Groups Section.
The Ferguson Award, the Section's highest honor, is presented to a senior scholar and recognizes "an outstanding law teacher, who in the course of his or her career has achieved excellence in the areas of public service, teaching and scholarship." The award is particularly intended for law professors "who have provided support, encouragement, and mentoring to colleagues, students, and aspiring legal educators."
April 2014: Fellow, American Bar Foundation, Chicago, IL
Accepted nomination, which is extended to less than 1% of lawyers admitted to practice in each jurisdiction in the United States.