Law & Social Movements Colloquium
The Colloquium is a five-part series that will feature pairs of lawyers and organizer-activists who have collaborated with each other in the context of active social movements. Attendees will learn about collective mobilization, the role of law in both impeding and encouraging the political activism of marginalized people, and the ways in which lawyers are working in support of such mobilizations.
The following UCI Law students and faculty are colloquium organizers: Sameer Ashar, Helen Boyer '18, Zackory Burns '18, Elliott Cavnaugh '19, Seth Davis, Kaaryn Gustafson, Annie Lai, Claire Lucas '18, and Emily Satifka '19.
---
Wednesday, September 20, 2017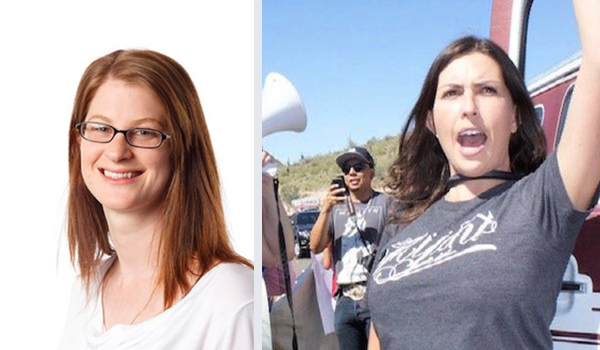 The Fight for Immigrant Rights: Collaborations Between Lawyers and Organizers
Jessica Karp Bansal is litigation director for the National Day Laborer Organizing Network and Jacinta Gonzáles is lead organizer of Mijente. Bansal and González are known for their creative, bold, and forward-thinking advocacy. González recently made national headlines after being detained by US Immigration and Customs Enforcement during a Donald Trump campaign protest, despite being an American citizen. They will speak about their past collaboration, as well as law and activism in the Trump era.
Related Posts:
---
Thursday, January 11, 2018
Abolition of the Criminal Legal System
5:30-7:00 p.m., EDU 1111
The Law & Social Movements Colloquium will host a conversation on abolitionism, anti-violence, policing, and prisons featuring Rachel Herzing, organizer, writer, and co-founder of Critical Resistance. Herzing will be joined in discussion by Emily Thuma, Gender & Sexuality Studies, UC Irvine School of Humanities.
Herzing is a long time organizer fighting against imprisonment and policing and for self-determination and a co-founder of Critical Resistance, a national grassroots organization dedicated to abolishing the prison industrial complex. She has been a grant maker, a health educator, and a researcher working on community-based interventions to violence. Her writing has been featured in anthologies, academic journals, and magazines, and she is a frequent speaker and resource to advocates nationally and internationally on issues related to the prison industrial complex, community responses to interpersonal harm, and the impact of policing on communities of color.
Thuma is an Assistant Professor of Gender and Sexuality studies at UCI and a volunteer-member of the California Coalition for Women Prisoners.
RSVP >
---
Thursday, February 22 2018
Environmental Justice
3:30-5:00 p.m., EDU 1111
The Law & Social Movements Colloquium and Center for Land, Environment, and Natural Resources present a panel discussion on Environmental Justice, Law, and Organizing featuring Angela Johnson Meszaros, staff attorney for Earthjustice, and Angela Howe, legal director of the Surfrider Foundation. 
Johnson Meszaros's docket focuses on working with communities of color on issues related to air pollution, energy and the urban environment. Over nearly 25 years, Johnson Meszaros has used a range of tools to enhance the health, safety and quality of life in communities impacted by enviornmental hazards. She holds both a degree in philosophy and a J.D. from USC. 
After a couple of years honing legal skills at a large law firm and volunteering, Howe transitioned to Surf Foundation. In leading the organization's legal strategy, she fights for sustainable solutions to environmental challenges and works to increase Surfrider's impact for healthy coasts. Howe holds a J.D. from UC Berkeley. 
---
March 2018
Trans Liberation
---
April 2018
Housing and Homelessness